American Football Kicking Tee
American Football Kicking Tee
American Football Kicking Tee
Four Plastic Prongs
Prop the ball up at any angle with help from the four plastic prongs on the american football tee to suit your kicking technique for improved accuracy and contact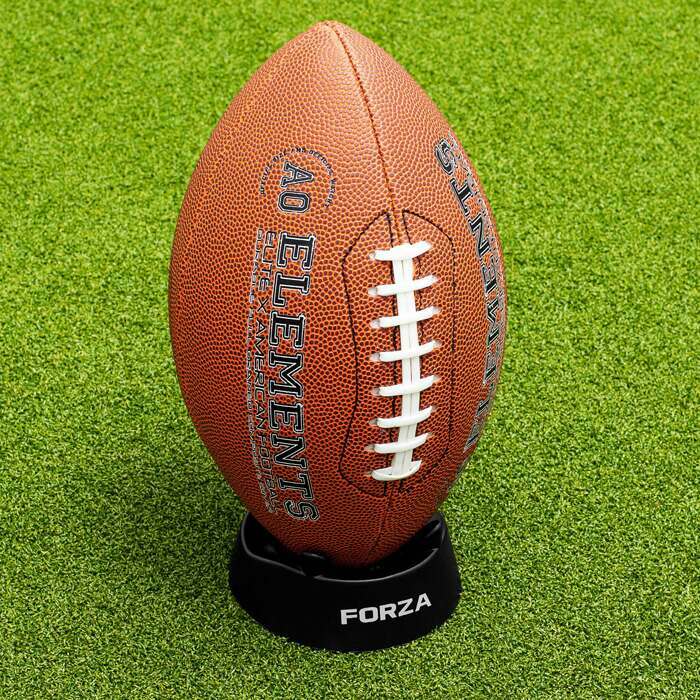 Heavy Moulded Plastic
The kicking tee is manufactured from a tough, durable plastic that is suitable for regular use during training and match days without any damage
Bold Black Tee
The black of this kickers tee contrasts against green grass pitches helping you to keep your eyes on the football.
Description
High-Vis Bold American Football Kicking Tee For Field Goal Practice
Become a field goal specialist with this ultra-durable American Football Kicking Tee manufactured from moulded plastic. The four-pronged design of the kicking tee allows you to position American footballs in a range of positions until you find the perfect way to strike a ball, without effecting your connection.
Four-pronged American Football Kicking Tee.
Manufactured from black ultra heavy-duty moulded plastic.
Prongs will hold American footballs in a variety of positions.
For use in all weather conditions.
Providing the basis to successful field goals this kicking tee will keep American Footballs in a consistent position helping to familiarise and build your technique. The tee is manufactured from hard-wearing moulded plastic which is weatherproof allowing you to practice field goals throughout all weather conditions.
Net World Sports also stocks a range of American football training and matchday equipment which pairs perfectly with this kicking tee including the 10 x 6 FORZA American Football/Soccer Combination Goal Posts, the FORZA American Football Kicking Net and American Football Goal Posts.
Specifications
Materials
Miscellaneous
Colour: Black
Four-pronged design holds balls in a variety of positions without interference
Also suitable for rugby
Want to chat?
Contact us here and we'll get back to you as soon as possible.
Buy today, play tomorrow
Order by 9pm for next day delivery
Questions & answers
Ask fellow customers what they think!
Hide Q&As
Questions & Answers
No one has asked a question yet! Be the first to ask one.
American Football Kicking Tee
Thank you!
Your answer has been submitted.
We really appreciate you taking the time to help other customers, so please check your emails for a little thank you from us.
American Football Kicking Tee
What would you like to know?
Thank you!
Your question has been submitted. You'll receive an email when an answer has been received.
Can't hang around? Contact us and we'll get back to you right away.
You may also like
FORZA 6ft Spring Loaded Slalom Training Poles [34mm]
£59.99
8 x 5 FORZA Combination Rugby & Football Goal Posts
£99.99
10 x 6 FORZA Steel42 Combi Rugby & Football Goal Posts
£186.99
15 x 7 FORZA Steel42 Combi Rugby & Football Goal Posts
£249.99
American Football Goal Posts
£6,773.99
Recently Viewed
Football Team Shelter & 8 Seat Bench Package
£249.99
Ultra Heavy Duty Tarpaulins [500gsm]
£26.99