Fantastic Fold Away Golf Cage For A Professional Practise Environment
Heavy Duty Golf Netting
Made from braided 2.3mm HDPP twine and woven into a high tenacity 20mm knotless mesh to create the perfect practise environment.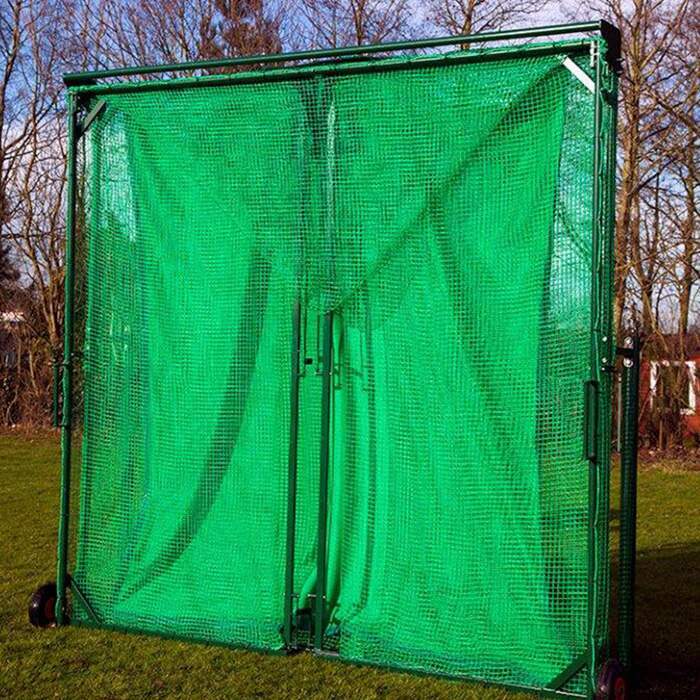 Concertina Fold-Away Nets
Tidies away from 3m to 71cm deep – making this golf cage perfect for sports clubs and driving ranges where space is limited.
Archery Grade Impact Panel
Ultra-heavy duty baffle net made from the same grade that stops archery bows, reduces ball impact to prevent it rebounding.
Description
Folding Golf Cage – Space Saving Professional Grade Practise Nets
Create your very own driving range set up so you can practise, improve and master the course.
Designed for golf clubs, sports centres or gardens where space is limited, the Concertina Folding Golf Cage and Netting provides a safe and professional environment to work on your drive.
With heavy duty 2.3mm OD braided HDPP twine woven into a high tenacity 20mm knotless mesh size, the strong golf enclosure nets create a protected golf driving cage that can withstand powerful close range shots from players at all levels. Whilst the ultra-heavy duty golf baffle net is made to the same grade of closely woven HDPP netting that stops archery bows, which significantly reduces ball impact to prevent it rebounding back out of the cage after each shot.
Made from hot dipped galvanised steel, this long lasting golf practise cage stands at 3m x 3m x 3m, with the rear retaining posts ground fixed and the front posts wheel mounted - allowing quick and easy fold away to a depth of 71cm after each practice session. Or why not opt for the fantastic powder coated finish, which gives this folding golf cage a professional look?
To complete the set-up, pair this net with the FORB Driving Range Golf Practice Mat & Anti Skid Rubber Base and you'll have yourself a professional golf practice setting from Net World Sports.


Please note: Estimated delivery time is 3-4 weeks as this product is made to order.
Specifications
Material:
Cage: Hot dipped galvanised steel with optional powder coated finish
Folding Section: 40mm x 20mm x 1.5mm (box section)
Rigid Section: 40mm x 40mm x 3mm (circular hollow section)
Main Net: 2.3mm thick OD braided HDPP woven twine with a high tenacity 20mm knotless mesh size
Baffle Net: Ultra-heavy duty archery specification net 3m x 3m
Size:
Fully Assembled: 3m wide x 3m high x 3m deep
Folded Away: 3m wide x 3m high x 0.71m deep (entire cage inc. retaining posts)
Net Folded Away: 34cm (from back upright to front of handle)
Misc:
Want to chat?
We're here on

live chat

right now!
Or via phone or email if you'd prefer...
Buy today, play tomorrow
Order by 9pm for next day delivery
Questions & answers
Ask fellow customers what they think!
Hide Q&As
Questions & Answers
No one has asked a question yet! Be the first to ask one.
Concertina Golf Cage
Thank you!
Your answer has been submitted.
We really appreciate you taking the time to help other customers, so please check your emails for a little thank you from us.
Concertina Golf Cage
What would you like to know?
Thank you!
Your question has been submitted. You'll receive an email when an answer has been received.
Can't hang around? Contact us and we'll get back to you right away.
You may also like
FORB Pro Driving Range Golf Practice Mat
£399.99
FORB Portable Garden Golf Net - 7ft x 7ft
£56.99
Socketed Golf Cage & Net - Professional Range
£359.99
Freestanding Golf Cage & Net [Home Driving Range]
£289.99