Replacement Magnetic Coaching Board Markers
Replacement Magnetic Coaching Board Markers
Spare Magnetic Markers For Coaching And Tactical Boards
Small Or Large
The replacement markers come in two size options suitable for different coaching boards. Small is suitable for A4 Coaching Folder and large is for 45cm x 30cm, 90cm x 60cm and 150cm x 120cm boards.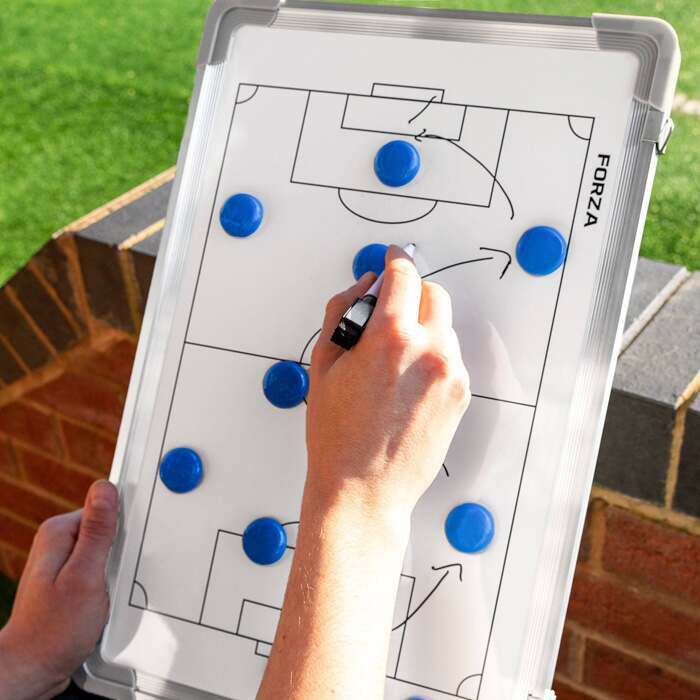 Durable Magnets
Each magnet included with the sets has been manufactured using premium quality plastic which is extremely durable, providing coaches at all levels of sport with long-lasting coaching equipment.
Complete Set
Both the large and small sized magnet markers come with a full amount of different coloured markers, with 12 red magnets, 12 blue magnets and 2 yellow magnets all included for analysis.
Description
COMPLETE SETS OF LARGE AND SMALL MAGNETIC COACHING TACTICS BOARD MARKERS
As the perfect replacement for damaged or lost magnetic markers, these lightweight and robust whiteboard accessories will ensure that you are stocked up for a long season ahead. As an essential piece of coaching equipment for consistent tactical analysis, these magnetic markers have been produced from a highly durable and dense plastic to guarantee prolonged longevity.
Replacement magnetic coaching board markers for the FORZA range of multi-sport tactics boards.
Manufactured using extremely durable plastic for long term, regular use.
Fully magnetic and compatible with the appropriate magnetic coaching and tactics boards.
Small markers are suitable for the A4 Coaching Folder while the large magnets can be used in conjunction with the 45cm x 30cm, 90cm x 60cm and 150cm x 120cm boards.
Each set is comprised of various coloured magnetic markers – 12 red markers, 12 blue markers and 2 yellow markers.
As tactical markers allow coaches to clearly display their strategies, this replacement pack of a combination of 12 red, 12 blue and 2 yellow magnetic markers will allow for clear and concise game plans. Available in large and small sizing options to suit your coaching board, the replacement magnetic coaching board markers can be used for the entire FORZA tactic board range.
Please Note: Net World Sports stock the entirety of the FORZA Multi-Sport Coaching Board range, including clipboards, folders, tactics boards, whiteboard pens and erasers.
Specifications
Materials
Manufactured from highly durable plastic for regular long-term use
Size Options
Small – Compatible with FORZA A4 Multi-Sport Coaching Board
Large – Compatible with FORZA 45cm x 30cm Coaching Board, FORZA 90cm x 60cm Coaching Board and FORZA 150cm x 120cm Coaching Whiteboard
Magnet Quantity
Each set comprises of 12 red markers, 12 blue markers and 2 yellow markers
Want to chat?
We're here on

live chat

right now!
Or via phone or email if you'd prefer...
Questions & answers
Ask fellow customers what they think!
Hide Q&As
Questions & Answers
No one has asked a question yet! Be the first to ask one.
Replacement Magnetic Coaching Board Markers
Thank you!
Your answer has been submitted.
We really appreciate you taking the time to help other customers, so please check your emails for a little thank you from us.
Replacement Magnetic Coaching Board Markers
What would you like to know?
Thank you!
Your question has been submitted. You'll receive an email when an answer has been received.
Can't hang around? Contact us and we'll get back to you right away.
You may also like
FORZA 45cm x 30cm Double-Sided Sport Coaching Tactics Boards [13 Sports Available]
£19.99
FORZA Pro A4 Sport Coaching Folders [13 Sports Available]
£14.99
FORZA 150cm x 120cm Double-Sided Wheeled Sport Coaching Whiteboards [5 Sports Available]
£329.99
FORZA 90cm x 60cm Double-Sided Sport Coaching Board [13 Sports Available]
£49.99
FORZA Sport Coaching Clipboard [13 Sports Available]
£9.99
Recently Viewed
Rounders Base & Pole - 4 Pack
£19.99
RapidFire Mega X Cricket Rebounder
£149.99
Drone / UAV Enclosure Drop-In Net
£69.99
FORZA Aluminium Team Shelter
£1,449.99
Ground Sockets For Football Goals [Pair]
£49.99