Wall Mounted Netball Ring
Wall Mounted Netball Ring
Wall Mounted Competition Sized Steel Netball Hoop & Optional Net
All Fixings Provided
4 heavy-duty bolts and an attachment plate are all provided with this wall mounted netball ring allowing you to instantly install it
Optional Net
You can add a ultra-durable net to this netball hoop allowing your goal attackers and shooters to practice their aim with a more realistic target.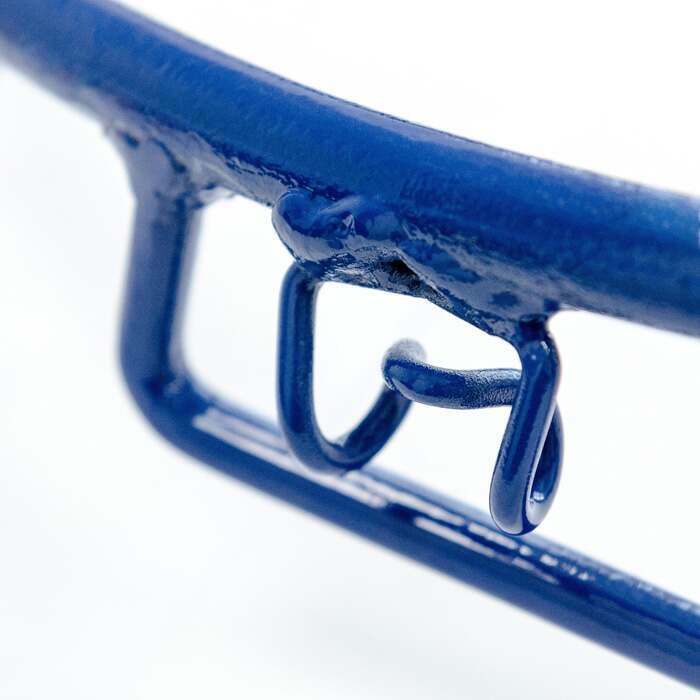 Galvanised Steel
This hard-wearing netball hoop is manufactured from 16mm thick galvanised steel to ensure it will not bend when struck by netballs.
Description
Galvanised Steel Space Saving Wall Mounted Netball Hoop
Create a permanent netball fixture indoors or outdoors with the galvanised steel Wall Mounted Netball Ring. Provided with 4 metal fixing bolts and 1 attachment plate, you'll be able to easily attach the blue netball hoop to any strong concrete wall. This easy to install and functional hoop allows you to upgrade your netball equipment to create a professional and premium look. For a comprehensive and complete netball set up, each 38cm (15 inch) competition sized hoop is ideally paired with the dense and durable 2mm nylon twine net.
Wall mounted netball hoop has a diameter of 38cm (15 inches).
Manufactured from 16mm diameter galvanised steel.
Pack includes 4 fixing bolts and 1 attachment plate.
Optional 2mm knotted nylon twine net and lacing twine.
Only attach this hoop to strong concrete walls.
This sleek netball hoop has been manufactured from 16mm thick galvanised steel which increases the hoops durability. Due to its robust composition, the wall mounted netball ring will not sustain damage from adverse weather. The galvanised steel resists the appearance and effects of rust to guarantee that you'll receive a netball hoop that will last for years to come.
Net World Sports stocks a range of quality netball post equipment which can be used by amateurs' schools and professional teams including Freestanding Netball Posts (School Standard), Socketed Netball Posts and FORZA Match Netballs.
Specifications
Dimensions
Hoop: Competition sized 38cm (15 inch) diameter
Material
Ring: 16mm galvanised steel
Optional net: 2mm nylon knotted twine
Miscellaneous
Attachment plate and 4 steel bolts supplied
Drill hole measurements: 70mm left to right, 50mm top to bottom
Hoop is designed to be attached to strong concrete walls
Don't just take our word for it
Seems well made and strong and easy to put up.
Want to chat?
Contact us here and we'll get back to you as soon as possible.
Buy today, play tomorrow
Order by 9pm for next day delivery
Questions & answers
Ask fellow customers what they think!
Hide Q&As
Questions & Answers
1 question | 1 answer
What is the hole spacing of the fixing plate. Ie distance between holes?
Answer this question >
Hi Jeff, thank you for getting in touch. The inside measurements between the holes are approximately 7cm horizontally and 5cm vertically. If you have any further questions please feel free to get in touch! Many thanks, Sophie
Wall Mounted Netball Ring
Thank you!
Your answer has been submitted.
We really appreciate you taking the time to help other customers, so please check your emails for a little thank you from us.
Wall Mounted Netball Ring
What would you like to know?
Thank you!
Your question has been submitted. You'll receive an email when an answer has been received.
Can't hang around? Contact us and we'll get back to you right away.
You may also like
FORZA Match Netballs
£6.99
Socketed Netball Posts
£69.99
Netball Bibs [Pack of 7]
£14.99
Freestanding Netball Posts (School Standard)
£96.99
FORZA International Match Netball
£16.99
Recently Viewed
21 x 7 FORZA Alu110 Freestanding Stadium Box Football Goal
£1,699.99
6 x 4 FORZA Football Goal Post
£36.99
Jumbo Schools Badminton Sets
£399.99
Economy Grade - Straight Back Football Net [All Sizes]
£7.99
22mm Golf Impact Ball Stop Netting [Standard Size]
£2.56