Football Ball Pump And Needle - FORZA Pump That Ball™
Football Ball Pump And Needle - FORZA Pump That Ball™

FORZA PUMP THAT BALL™ - Quickly Inflates All Air Expansive Footballs
HIDDEN NEEDLE STORAGE
The fantastic football ball pump not only includes a euro needle adapter, but also features a convenient integrated compartment for secure needle storage.
Dual-Action Football Pump
The innovative dual-action system prevents air pressure from escaping during inflation, minimising the amount of effort it takes to properly inflate footballs.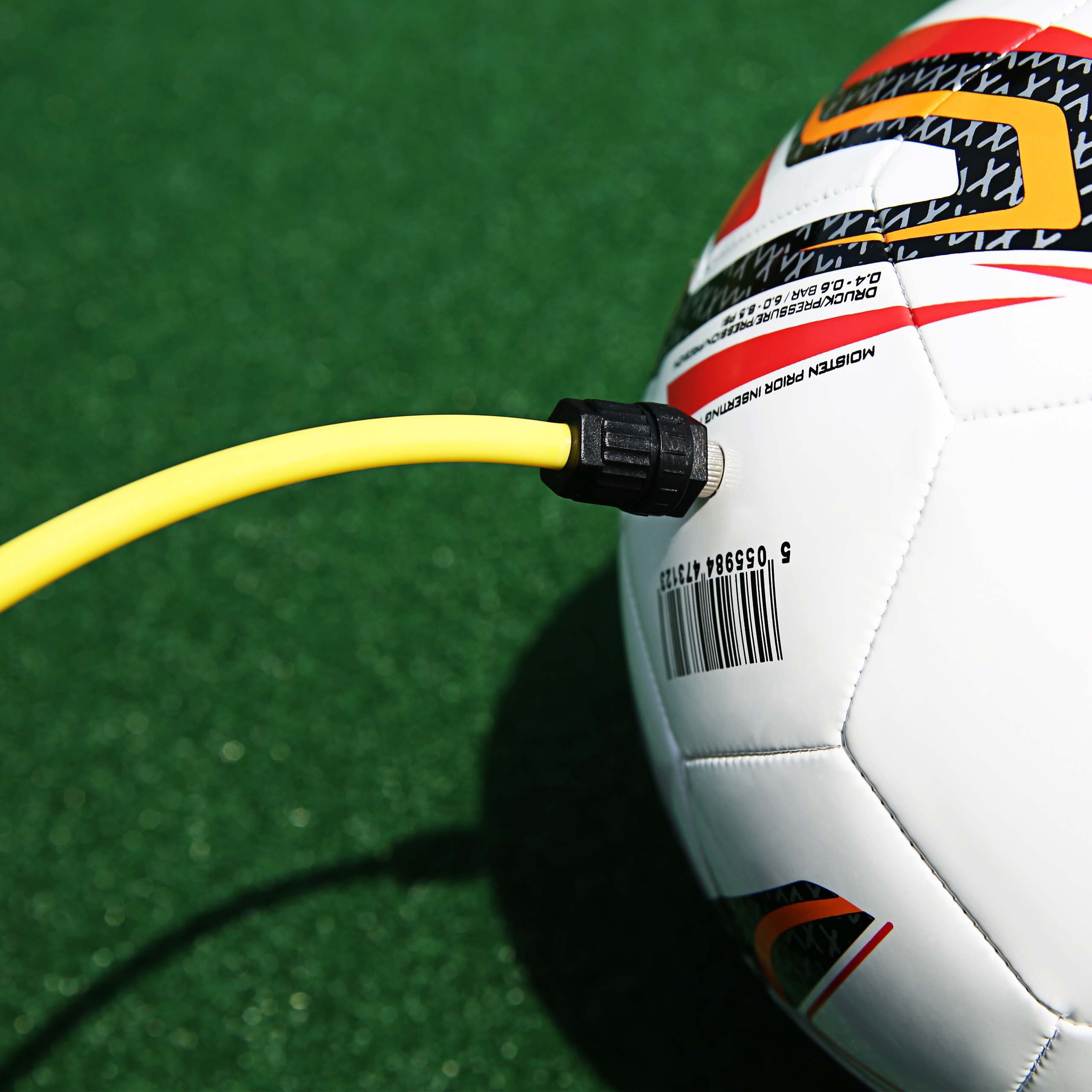 EXTENDABLE BALL PUMP NOZZLE
The FORZA Pump That Ball™ features a high-quality nozzle which is both extendable and flexible, making the task of inflating footballs significantly easier.
Description
Dual-Action Handheld Football Pump With Hidden Storage Space For A Spare Needle
A key aspect of hosting successful football matches is to play with properly inflated footballs and have a reliable pump always on hand. The lightweight FORZA Pump That Ball™ fits the bill perfectly, capable of inflating footballs in under 10 seconds this portable pump will quickly become an integral piece of your matchday equipment.
One euro adapter needle is provided with the FORZA Pump That Ball™.
Storage space for a spare needle is located on the pump's "T" shaped plastic handle.
Innovative extendable nozzle allows you to pump up footballs in a natural position.
FORZA branded florescent yellow exterior.
Compatible with the Football Ball Pressure Gauge Reader (sold separately).
You can start inflating your footballs the moment you receive this handheld pump thanks to the needle provided. Storage room is cleverly hidden on top of the "T" shaped handle, allowing you to always carry a spare euro needle adapter. Manufactured with a dual-action inflation system this pump ensures that your footballs air pressure will be retained throughout use, in turn guaranteeing you will not waste a single drop of energy. Another excellent feature of this portable football pump is it's extendable, flexible nozzle which allows you to hold your football at an angle you find comfortable during inflation.
The FORZA Pump That Ball™ is compatible with the Football Ball Pressure Gauge Reader (sold separately), this lightweight device screws on the pump and will provide you with accurately inflated footballs thanks to the analogue display on the front of the gauge.
Specifications
1x Euro Needle provided
Ultra-durable florescent yellow plastic exterior
Innovative extendable nozzle
Footballs can be inflated in under 10 seconds
Removeable cap unveils hidden storage compartment
For use with all FORZA footballs (sold separately) as well as all air-expansive footballs
PLEASE NOTE: This pump is only compatible with a Euro Needle
Don't just take our word for it
handy ball pump with the needle hidden in the handle---genius
pump that ball yes it does five stars
Want to chat?
We're here on

live chat

right now!
Or via phone or email if you'd prefer...
Buy today, play tomorrow
Express delivery available
Questions & answers
Ask fellow customers what they think!
Hide Q&As
Questions & Answers
No one has asked a question yet!
You may also like
Electric Football Pump [12v]
£9.99
FORZA Training Footballs
£4.99