FORZA AFL Aussie Rules Football Handpass Target Net
FORZA AFL Aussie Rules Football Handpass Target Net
8ft x 8ft Freestanding FORZA Aussie Rules Football Target Net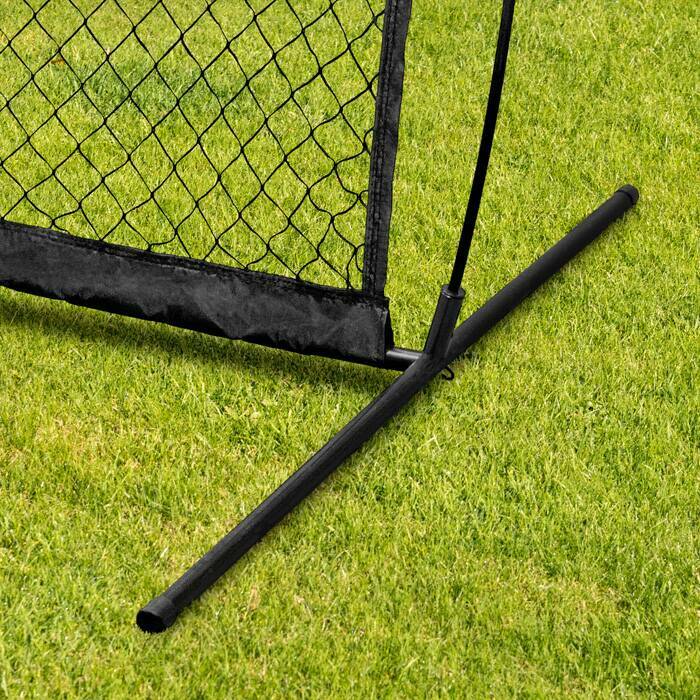 Freestanding Handpass Net
The 25mm steel frame of this AFL practice net is supported by two fibreglass poles which are 12.7mm thick. This mix of flexible and rigid poles ensures the Aussie Rules Football target net will not break when footballs hit the target.
Versatile AFL Training Equipment
Perfect for handball practice, this piece of AFL training equipment is constructed with 5 separate target holes which are positioned across the 8ft x 8ft net. The varied pocket placement allows you to use this practice target throughout a variety of passing drills.
High-Vis Pockets
All 5 target pockets feature fluorescent yellow banding to increase visibility during low-light training sessions. This bright colour helps AFL players remain focused on each individual target, improving their concentration during competitive matches.
Description
Lightweight Handpass Target Net For Aussie Rules Training Sessions
Made to improve your handpass accuracy, this AFL practice net is constructed with five pockets positioned across the large net which is manufactured from black knotless HDPE twine with 45mm mesh. This ultra-durable twine negates the risk of AFL footballs tearing the net even from close range. Each pocket is also banded together with fluorescent yellow nylon. This vibrant binding draws players eyes to the desired target, helping you and your teammates to remain focused during intense training sessions.
8ft (2.4m) x 8ft (2.4m) FORZA Handpass Aussie Rules Target Net
Five fluorescent yellow banded target areas
Net is manufactured from black knotless HDPE twine with 45mm mesh
25mm (1 inch) steel base frame with 12.7mm (0.5 inch) fibreglass poles
Freestanding net is supplied with four U-pegs for added stability
Carry bag included for easy storage and transportation
The frame of this 8ft (2.4m) x 8ft (2.4m) AFL practice net is kept stable by a 25mm (1 inch) thick steel bar which is flanked by 12.7mm (0.5 inch) fibreglass poles. This mix of rigid and bendable poles ensure this Aussie Rules Football Handpass Target Net can withstand the force of any strong handball without collapsing. Despite the impressive level of durability this nets frame provides, it is incredibly easy to assemble. This short construction time allows you to set up the FORZA Aussie Rules Handpass Target Net moments before a game for some last minute handball practice.
To provide this AFL target net with additional stabilisation on soft surfaces, four heavy-duty u-pegs are supplied. These deep pegs temporarily anchor the AFL target net in position, allowing you to train throughout strong winds without the net overturning. Also included with this Aussie Rules football target net is a lightweight carry bag. The compact bag allows you to neatly store this piece of AFL training equipment at the clubhouse or in the boot of your car between training sessions while taking up minimal storage space.
Specifications
Dimensions
Material
Frame: 25mm (1 inch) steel frame
Support poles 12.7mm (0.5 inch) fibreglass
Net: Knotless HDPE twine with 45mm mesh
Miscellaneous
Target pockets are banded with fluorescent yellow material for increased visibility
Four U-pegs provided to help stability on soft uneven surfaces
Carry bag included for storage and transportation
Want to chat?
Contact us here and we'll get back to you as soon as possible.
Questions & answers
Ask fellow customers what they think!
Hide Q&As
Questions & Answers
No one has asked a question yet!
You may also like
10 AFL Water Bottles [750ml] & Foldable Bottle Carrier
£18.99
RapidFire Aussie Rules Football Mega X Rebounder
£159.99
FORZA Grand Match AFL Ball
£9.99
Aussie Rules Football Flash Pop-Up Rebounder [8ft x 5ft]
£39.99
Aussie Rules Football RapidFire Mega Rebounder
£139.99