Vermont Badminton / Volleyball Combi Posts [Socketed]
Vermont Badminton / Volleyball Combi Posts [Socketed]
Two Sports, One Set Of Posts - ProCourt Badminton/Volleyball Posts
Super Sturdy Steel Posts
The thud of a volleyball and close court racket impact won't damage these strong posts. Powder coated in a cool blue, your court is sure to stand out!
Posts That Pass The Test
Our ProCourt Badminton & Volleyball posts officially adhere to their respective federation's regulations - bring your best skills and get playing!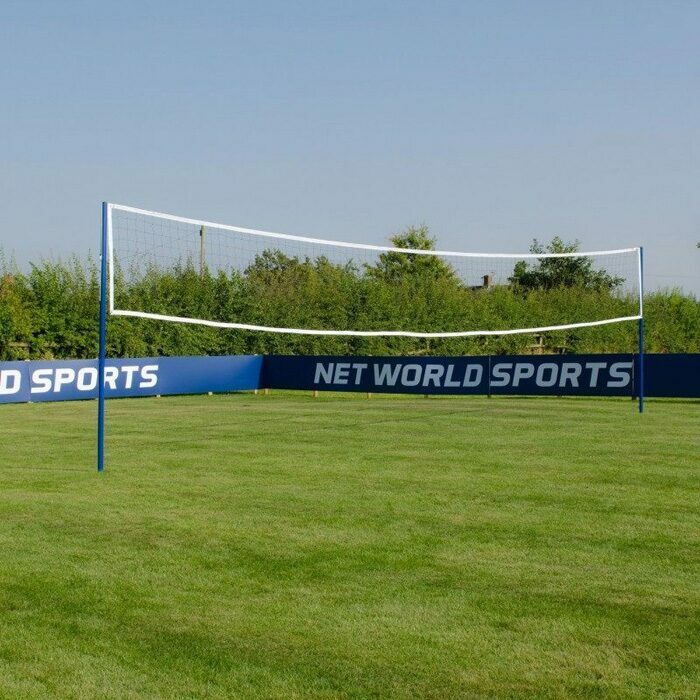 Volleyball Or Badminton?
Whether you fancy yourself as a racket-wielding wizard, or a spike supremo, these top quality combination posts are perfect for both sports!
Description
Socketed Combination Badminton And Volleyball Net Posts Ideal for Matches
Manufactured to provide versatility and extended dependability, these semi-permanent Vermont Badminton and Volleyball Socketed Combination Posts will add a professional touch to any court. Designed to remain firmly in place during game play, this high-quality set of posts are suitable for outdoor use in varying weather. With the option of additional heavy-duty badminton and volleyball nets, that are supplied with all the required fixtures and fittings, you'll have a comprehensive durable package ideal for use in schools, leisure centres and clubs.
Semi-permanent steel posts with a weather resistant power coated finish
Badminton and volleyball nets that can be attached and detached easily
A stable, secure and versatile pair of posts
Both packages feature 4x ground sockets - accomodates for volleyball & badminton widths
Optional Badminton and Volleyball nets supplied with fixtures and fittings
This professional standard posts have been manufactured from dense steel for increased durability and support. Each 50mm post has been expertly finished in a blue layer of power coating that will protect these posts from rust related damage. This solid foundation ensures that the Vermont Badminton/ Volleyball Socketed Combination Posts are capable of withstanding regular use.
The optional badminton and volleyball nets are supplied with all of the fixtures and fittings needed to create a secure and taunt net. Due to the portable nature of each net, they can be easily attached and then reattached for games of badminton and volleyball.
PLEASE NOTE: Both packages feature 4x ground sockets which ensures both volleyball court & badminton court widths are accomodated for.
Specifications
Volleyball Net
Net Size - 32ft x 3ft (9.75m x 0.9m)
Mesh Square Size - 4in (10cm)
Weight - 2kg
Overlock Border
Badminton Net
Size - 20ft x 2.5ft (6m x 0.75m)
Mesh Square Size - 19mm
Headband - 37mm PVC Coated Fabric
Overlock - Stitched Twine Edge
Twine - Braided Nylon
Weight - 850g
Includes 2 x Brass Eyelets & 2 x Braided Nylon Tie Twine
Miscellaneous
Posts come with 4x 18in (45cm) ground sockets included
Combi Posts come with socket caps included
Conforms to BSEN: 1509
8ft Volleyball / 5ft Badminton
45kg / 99lbs (Set)
50mm Diameter Steel Posts
Blue (Powder Coated)
Want to chat?
We're here on

live chat

right now!
Or via phone or email if you'd prefer...
Questions & answers
Ask fellow customers what they think!
Hide Q&As
Questions & Answers
1 question | 1 answer
How does the pole get attached to lawn?
Hi Shelly, thanks for getting in touch. You are currently looking at the 'Socketed' version. This system is provided with additional ground sleeves which need to be concreted into the ground. Once the sleeves are in the ground, the posts simply slide into the pre-existing socket. We also have a 'Freestanding' system available which is on wheels should you prefer this. If you have any further questions then please do get in touch. Many thanks, Adam
You may also like
Vermont Badminton / Volleyball Combi Posts [Freestanding]
£229.99
Vermont ProCourt Mini Badminton Net & Racket Set
£79.99
Vermont ProCourt Mini Tennis Net & Racket Set
£79.99
Vermont ProCourt Mini Badminton Net
£42.99
Vermont ProCourt Mini Tennis & Badminton Nets [Nets Only]
£19.99