12 x 6 FORZA Match Football Goal Post
12 x 6 FORZA Match Football Goal Post

12 x 6 Match Football Goal - PVC Regulation Sized Mini-Soccer Goal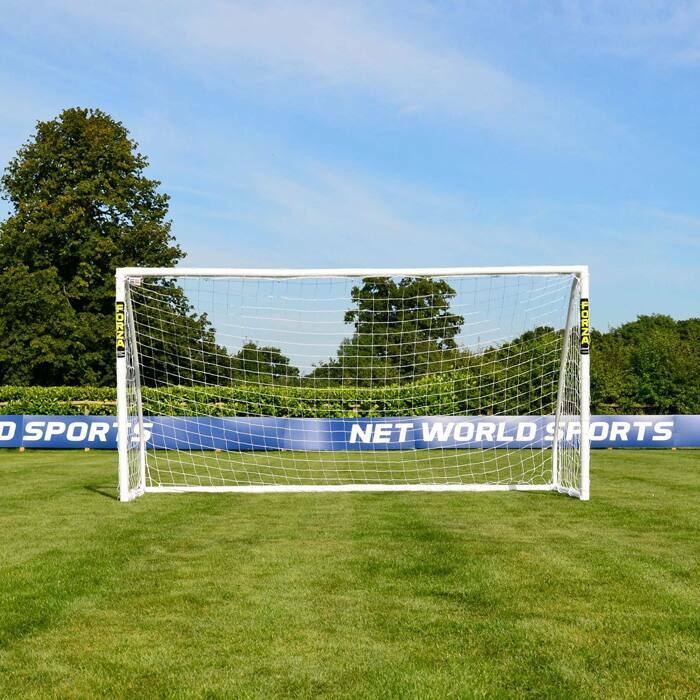 Weatherproof Football Goals
The 12 x 6 PVC goal provides year-round performance due to its weatherproof design. The regulation sized mini-soccer goal can be used on all surfaces.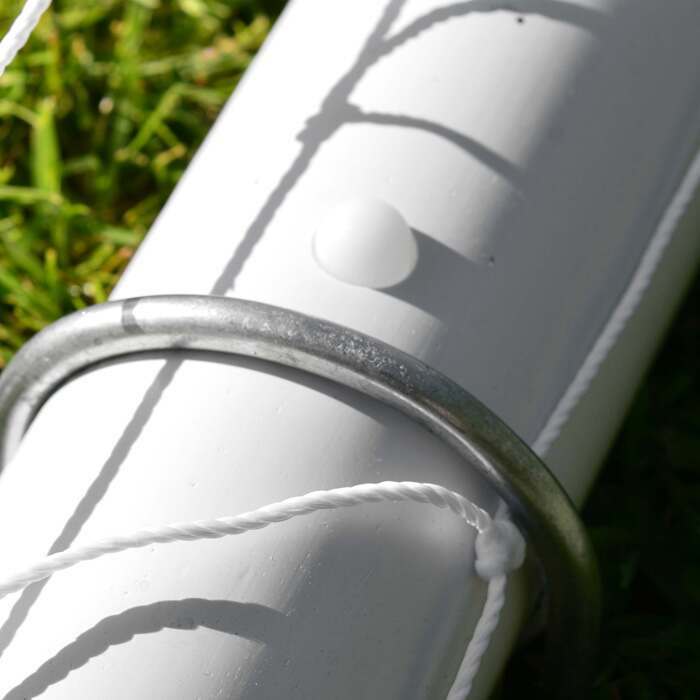 Essential Locking System
Every FORZA goal has the essential locking system. Designed to ensure maximum strength and stability, this goal is able to absorb even the strongest of strikes.
Assemble with ease
You can have this FORZA goal ready in minutes and ensure maximum playing time for your junior football geniuses! Once built you can leave it outside as it's tough enough to battle the elements.
Description
12 x 6 FORZA Match Football Goal – PVC Regulation Sized Mini-Soccer Goal Suitable As A Garden Goal
12 x 6 is the official regulation goal size for mini-soccer, a small-sided version of football designed to introduce kids to the sport. For tournaments and matches, this PVC 12 x 6 match goal offers a weatherproof and strong option for long-lasting use. A high-quality kids football goal, the 12ft x 6ft FORZA Match is portable and versatile, and is capable of being used on all playing surfaces, including use as a garden goal for kids.
As an alternative to our back garden PVC 12ft x 6ft Match football goals there are also heavy-duty metal variations in the form of our FORZA Steel42 and FORZA Alu60 goals. Perfect for Mini-Soccer matches and training sessions, the 12 x 6 steel and aluminium goals are professional quality football goals, having been designed with exceptional durability and strength for regular use.
12ft x 6ft regulation sized mini-soccer football goal for official tournaments and matches as well as garden use
The quick and easy assembly of the match goal will have the goal entirely set up within minutes
The goal features an essential locking system and top runback mechanism which enhance the stability
Tough PVC goal posts which are weatherproof for protection against rust and corrosion when left outdoors
As standard, a high quality 2mm HDPE OD twisted goal net is included alongside net clips and u-peg ground anchors
Due to its conformity with FA Match regulations and BS EN safety standards, the 12 x 6 mini-soccer football goal is perfectly adept at taking centre stage during junior matches and tournaments. Its resourcefulness allows it to also be used as a garden goal for kids, bringing high levels of quality to kids kickabouts. Weatherproof in design, the multi-use football goal can also be used as a year-round training goal, providing the consistency required when striving to hit the heights.
At the heart of the 12 x 6 football goal is its essential locking system. This cutting-edge system allows the goal to absorb hard impacts, linking the posts together with enhanced strength. The PVC goal frame is weatherproof and durable, thanks in part to the essential locking system, which retains the shape of the goal regardless of what comes its way. The goal also features a top depth which further improves the rigidity and robustness of the mini-soccer match goal.
As a product of its lightweight manufacturing, the PVC goal frame is portable, taking the efforts of just one person to carry it and place into position. The 12 x 6 goal is quick and easy to assemble, taking mere minutes for the setting up process to be complete. Incredibly strong yet mobile, the weatherproof football goal for kids offers supreme convenience as it can be left fully assembled outdoors all year long without become damaged. High in value as well as quality, the goal includes a 2mm all-weather goal net, clips and u-peg ground anchors
PLEASE NOTE - The 12 x 6 FORZA Match Football Goal is a part of the broader match goal range with other sizes also on offer. The rest of our FORZA PVC goals can be found here.
Specifications
Dimensions:
12ft x 6ft (3.66m x 1.82m)
Bottom depth - 4ft (1.22m)
Material:
Made from uPVC with enhanced back profile
2mm UV stabilised HDPE net supplied with every goal
Net has reinforced edges
Miscellaneous:
This goal can be left outdoors all year round
Goal can be moved easily and taken down to be easily transported
Goal comes with a 1 year warranty
Don't just take our word for it
Very good quality goal with good quality components and easy to assemble
So far so good. Only used for a week.
Easy to assemble and looks good.
good communication, good product
Products are as pictured & of excellent quality.
Want to chat?
We're here on

live chat

right now!
Or via phone or email if you'd prefer...
Buy today, play tomorrow
Express delivery available
Questions & answers
Ask fellow customers what they think!
Hide Q&As
Questions & Answers
9 questions | 9 answers
Hi, Just wondering what the difference is between this product and the cheaper version of the same size listed on your site - 3.7M X 1.8M FORZA SOCCER GOAL POST thanks.
Hi Jess, thank you very much for the enquiry. The difference between the two is the back stanchions. The match goal has stanchions that create a top depth to allow them to be used in regulated small sided games. The materials on both of the goals are exactly the same.
Many thanks,
Grant
Hi. Does each goal include storage bag? Thanks
Hi Chris, thank you very much for the enquiry. Unfortunately, the bags for these goals are not included in this price. You can purchase the goal bags separately on our site, they should also be listed under the 'click here for essentials' section on the page for this goal.
Many thanks,
Grant
does this soccer goals post come with netting or is it just he goal post
Hi Spencer, Thank you for your question. The netting does come included with all of the goal posts we have available on our website. Also included for this goal post are the net clips and ground anchors to secure the goal into the ground for the best stability possible. If you have any further questions please email sales@
networldsports.com
Many thanks, Tom
Hi Jose, Thank you for your question. The diameter of each of the posts is 2.7 inches (68mm), with the diameter being this thick you have the durability to withstand powerful shots from all different types of skill levels. If you have any further questions please email sales@
networldsports.com
Many thanks, Tom
Had PVC goals in the past and they sag over time and lose shape - is your goal guaranteed to stay straight?
Hello James, Thank you for your question. Our goals are designed to last for multiple years and in different environments, our goals have a one year warranty so in the very unlikely scenario that the goals lose shapes or parts get damaged they can get replaced free of charge. Many thanks, Tom
Is the Forza 12 x 6 Football Match Goalpost suitable for a 15 year old boy ?
Hello Tom, Thank you for your question. The 12 x 6 size is mainly catered up to the age of around 12-13 years old. For the age of 15 years old I would recommend the 16 x 7 size which is available in PVC, Steel and Aluminium material. Many thanks, Tom
Hi, Do you get the spikes to holding it done with it , or are they separate Thanks
Hello,
Thank you for your question, yes they do come with metal U-pegs which are used to secure the goals into the ground.
If you would like a quotation with delivery costs, please email sales@
networldsports.com
Kind regards,
Alex
Hello, Please see below the weight of the product you are looking at...

Weight of package: 14kg / 30.8lbs

Thanks,
Danny
does this goal come with a net
Hello Roxley, Thank you for your email. I can confirm that the net is included with the goal post as well as the attachments to secure the netting and the goal post. Many thanks, Tom
You may also like
12 x 6 FORZA Steel42 Football Goal
£189.99
12 x 6 FORZA Alu60 Football Goal
£369.99
Freestanding STOP THAT BALL™ - Ball Stop Net & Posts [10ft High]
£79.99
12 x 6 FORZA Alu110 Freestanding Football Goal
£1,199.99
12 x 6 FORZA Alu110 Socketed Football Goal
£589.99