18.5 x 6.5 FORZA Alu110 Freestanding Stadium Box Football Goal
18.5 x 6.5 FORZA Alu110 Freestanding Stadium Box Football Goal

18.5 x 6.5 Freestanding Stadium Box Football Goal For Training Sessions
Premium Box Goal Net
The top of the range 5mm braided box goal net retains its premium box shape through the combination of a double ratchet system and bracing bars, ensuring that your box net performs all match.
Heavy Duty Optional Wheels
Our optional lever or 360° football goal wheels will lift the goal up to 100mm or 10 inches off the ground for ease of portability. The premium goal features welded corner joints which are stronger and better than mitred corners.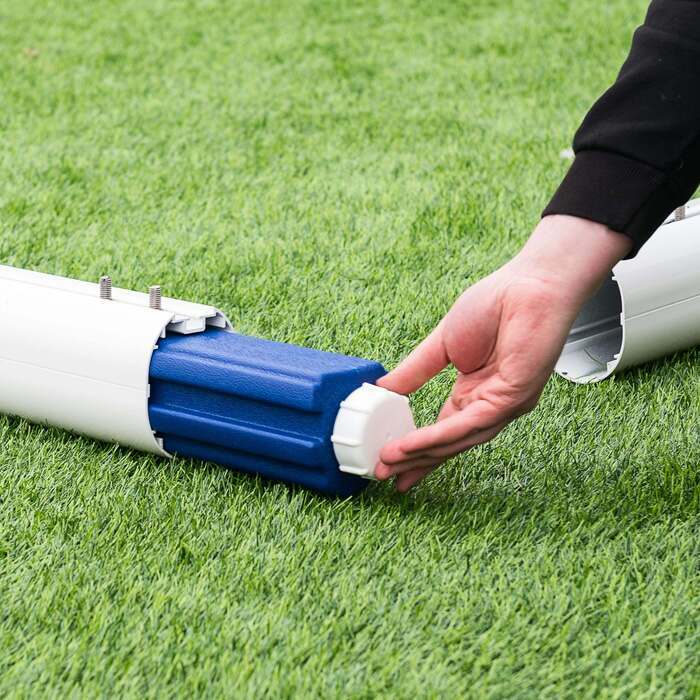 Add Weights For Stability
The optional counterbalance further enhance the already high levels of stability exhibited by the goal. The weights have been designed to slot into the goal with ease, preventing overturning during use.
Description
Take Match Preparations To The Next Level With This 18.5 x 6.5 Freestanding Stadium Box Football Goal
If you fail to prepare then you prepare to fail. With this 18.5 x 6.5 freestanding box stadium football goal at your disposal, your training sessions will always hit the mark, allowing your squad to get to grips with the conditions of a real match. The premium shape of the box football goal net is reminiscent of countless classic Premier League goals, bringing a touch of professionalism to your training sessions. With dimensions of 18.5 x 6.5, this is the perfect football goal for training use, getting your players in tip-top condition ahead of the big match.
Consistent and dependable box goal net shape which won't sag down the middle during use
The perfect box net shape is maintained by the double ratchet system and back bracing bars
Goal frame is manufactured from reinforced aluminium and powder coated in a classic white
Option to add 360° orlever type goal wheels for simple portability on any and all surfaces
For enhanced health and safety measures, add internal counterbalance weights to your goal
What sets this 18.5 x 6.5 box stadium football goal apart from the rest is its professional quality box goal net shape. The striking box goal net is held taut and stable during a barrage of shots and goal-mouth scrambles by the match-winning combination of a unique double ratchet system and back bracing bars. When you're consistently training to amass points over the course of a season, you need a reliable football goal to help you hit the heights. This stadium box goal fits the bill, with its eye-catching net shape staying securely in place all season long.
Designed to replicate the look and feel of a matchday football goal on the training pitch, this 18.5 x 6.5 box football goal provides worthwhile match preparations to clubs of all standards. The box goal net won't let you down by sagging in the middle, as it has been expertly manufactured to avoid this common design flaw. Bring quality that is leagues ahead of the rest to your training sessions with the 5mm braided twine box football goal net. This table-topping football net won't require a winter break, as it is weatherproof for protection against rot.
As hard-wearing as they come, this aluminium stadium box goal is in it for the long haul. The sturdy goal frame blends cutting-edge strength with traditional aesthetics, resulting in a celebration-worthy training football goal which is guaranteed to hit the back of the net. The heavy-duty powder coated frames are also light in weight, providing the best of both worlds to all clubs. Capable of being left outside without becoming damaged, this freestanding football goal is also suitable for use on all surfaces, perfect for those who practice on a variety of pitches.
The tedium and painstaking effort of constantly moving your goal can put a dampener on your training sessions before they've even begun. With this in mind, you can add heavy-duty wheels to your stadium football goal, to make manoeuvring the goal a breeze. The premium quality, puncture proof goal wheels lift the goal to an impressive 100mm off the ground, negating the need to manually lift the stadium football goal. These wheels make for a high quality addition to your goal, enhancing convenience and ease of use.
As well as complying with worldwide match regulations, all necessary safety measures have been taken as the goals passed independent testing to BS EN 8462 safety standards. For further protection, there is also the option to add our top of the range internal counterbalance weights to your football goal. Designed to slot into the goal with ease, the weights prevent overturning, solidifying you goal and guaranteeing peace of mind as the action unfolds. Take your training sessions seriously with the 18.5 x 6.5 FORZA Alu110 Freestanding Box Stadium Football Goal.
Specifications
18.5ft x 6.5ft FORZA Alu110 Freestanding Stadium Box Football Goal
Size
18.5ft x 6.5ft: (5.6m x 2m)
Design
Premium box goal net shape
5mm HDPE braided box stadium goal net
Net is tensioned by a unique double ratchet system
Extra back bracing bars for enhanced stability
Net does not sag in the middle, providing the ultimate goal net
Goal Frame Materials
Club spec goal is manufactured from 110mm diameter reinforced aluminium and powder-coated white
Aluminium goal frame provides fantastic protection against rust and corrosion
Fully weatherproof and highly durable
Optional Extras
Revolutionary 360° football goal wheels for movement in all directions
Heavy duty lever type anti-puncture wheels for easy portability
Internal counterbalance weights for enhanced safety measures
Miscellaneous
Goals will be delivered in flat pack form and will require assembly
It is advised that the following tools would be useful to help with assembly: mallet, wrenches, ratchet with sockets
1 year guarantee as standard with all FORZA football goals
Please Note: This goal has been independently tested to BS EN 8462 safety standards. To view the video please click here.
Goals are independently tested to BS EN 8462 safety standards and comply to FA, UEFA and FIFA regulations
Goals conform to FA Match standards. Net World Sports is recognised by the FA as a suitable supplier of football goals
Don't just take our word for it
We buy all our goals from here and wouldn't go anywhere else. We have Forza goals in a huge range of sizes and models and these aluminium goals are as good as it gets. We also purchased the 360 wheels which are also fantastic and make it easy to move the goals when they are not in use.
Want to chat?
Contact us here and we'll get back to you as soon as possible.
Questions & answers
Ask fellow customers what they think!
Hide Q&As
Questions & Answers
No one has asked a question yet!