Atom Electric Spray Line Marking Machine - For Sports Pitches
Atom Electric Spray Line Marking Machine - For Sports Pitches
Electric Line Marking Machine With Ultra-Stable Punctureproof Tyres
10 Litre Pail
Capable of spraying up to nine football pitches with one full tank this electric line marking machine is the most effective way to mark out playing areas.
Brass Non-Drip Nozzle
Featuring an instant shut of valve designed to stop any potential paint drip, professional looking pitches and road markings are guranteed.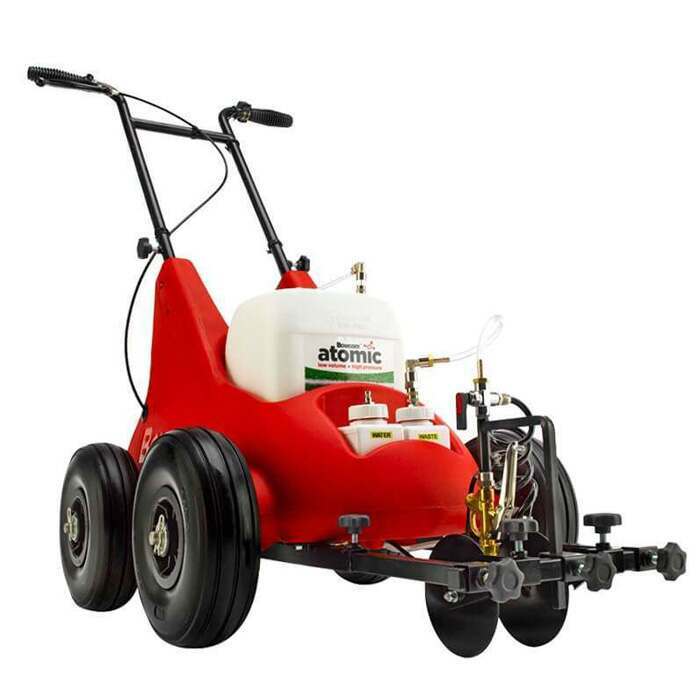 Puncture Proof Tyres
The Ultra-durable puncture proof tyres sit on top of a stable SS axle providing straight, sharp paint lines across all surfaces.
Description
12 Volt Electric Line Marking Machine With Instant Shutoff Brass Spray Nozzle
Capable of marking nine football pitches with one full 10 litre (340fl oz) tank of paint, the Atom Electric Spray Line Marking Machine is the most efficient way to quickly paint all playing surfaces. The machine's self-cleaning pump and brass nozzle will always deliver accurate, professional looking results.
Four wheeled electric Atom line marking machine.
Ultra-durable puncture proof tyres.
Non-drip brass nozzle and high pressure self-priming pump.
10 litre (340fl oz) self-cleaning tank.
Integral quick-bleed system.
High capacity 12 volt battery.
Powered by a high capacity 12 volt battery the Atom Electric Spray Line Marking machine is incredibly quiet and requires very little maintenance to remain in top condition. Built with stability in mind this line marking machine's four puncture proof tyres sit on top of SS axles, allowing them to glide across all surfaces in turn providing sharp painted lines. Paint is delivered through the brass nozzle which features an instant shut off valve, stopping any potential drips from reaching your turf. Combined with the 10 litre (340fl oz) self-cleaning tank and the self-priming high-pressure pump, the time taken to mark out parking spaces, road markings and football pitches will be greatly reduced.
You also have the option of adding Bowcom's Atomic line marking paint to this machine. Specifically formulated to provide the best performance when used with this electric spray marking machine, the paint is quick drying, durable and extremely bright. Just 1.1 litre (37fl oz) is required to mark out a standard size football pitch.
Specifications
Miscellaneous
Puncture proof tyres
Self-cleaning and priming 10 litre (340fl oz) tank
Brass spray nozzle with instant shut of valve
12 volt rechargeable battery
Lines marked on asphalt surfaces should will need remarking after 3-6 months dependant on wear and tear
Atomic line marking paint is also available
Want to chat?
We're here on

live chat

right now!
Or via phone or email if you'd prefer...
Buy today, play tomorrow
Express delivery available
Questions & answers
Ask fellow customers what they think!
Hide Q&As
Questions & Answers
No one has asked a question yet!
You may also like
StadiumMax Wheel Transfer Line Marker - For Sports Pitches
£329.99