Baseball Batting Tee

Pro Quality Telescopic Baseball Batting Tee
Telescopic Tee
This Baseball Batting Tee features an innovative telescopic design which allows players to adjust the height with ease. Suited to all ages and abilities, the Tee has a height range of 55cm to 94cm.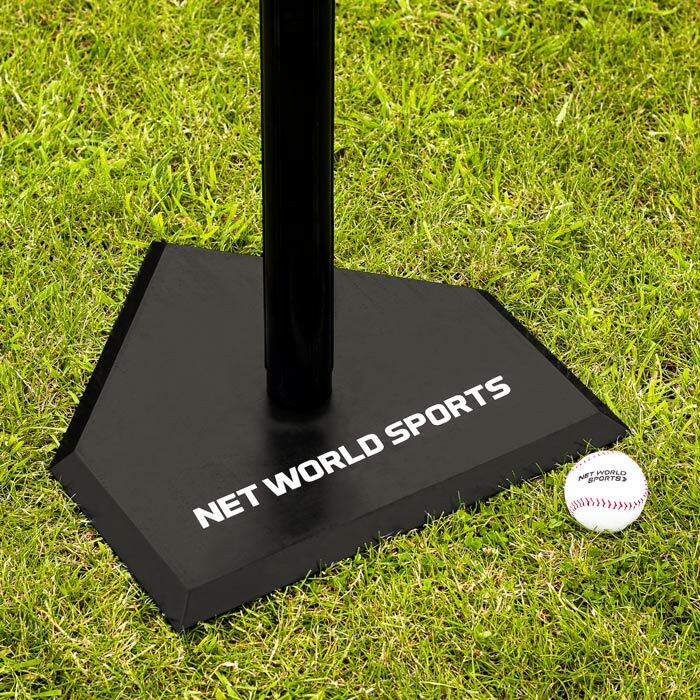 Quality Construction
One thing that's guaranteed with this batting tee is exceptional longevity. The elite construction has been created using ultra heavy-duty rubber & features a steel plate insert in the base for increased stability.
Batting Perfection
With this Baseball Batting Tee in your ranks you'll be able to take your batting skills to the next level. Whether you prefer baseball or softball, this top-quality rubber batting tee will be the perfect fit for you.
Description
Perfect Your Baseball Batting Skills With This Rubber Batting Tee
Whether you're a professional looking to increase your batting average or just simply a baseball enthusiast looking to add some batting practice to the back garden, this Baseball Batting Tee is a must-have. Brimming with quality, this baseball batting accessory will help take your game to a new level thanks to its consistent, durable performance. The easy-to-adjust telescopic batting tee features a height range of 55cm to 94cm, allowing players of all heights to use it.
Telescopic Baseball Batting Tee With Adjustable Height
Height range: 55cm to 94cm (22in to 37in)
Manufactured from ultra heavy-duty rubber (100% weatherproof)
Base includes steel insert for excellent stability
Suitable for all ages and abilities
Ideal for baseball & softball practice
Expertly crafted using ultra heavy-duty rubber, this baseball batting tee is more than equipped to cope with the fiercest of strikes. As well as being supremely robust on contact, the heard-wearing construction is also 100% weatherproof, so you won't have to let rainy conditions get in the way of valuable batting practice. For added stability during training, the tee's base features a high-quality steel insert, which makes it even harder to knock over. Weighing 4.5kg in total, this baseball batting tee balances portability and strength supremely well.
This Baseball Batting Tee is also an excellent choice for Softball batting practice. Why not check out some of the rest of our professional FORTRESS range in the essentials above and create the ultimate baseball/softball training arena!
Specifications
Baseball Batting Tee Specifications
Materials:
Batting Tee is made using heavy-duty rubber
Base features a premium steel insert for added strength & stability
Whole construction is 100% weatherproof
Dimensions:
Baseball Batting Tee Adjustable Height: 55cm to 94cm | 22in to 37in
Total Weight: 4.5kgs | 9.9lbs
Miscellaneous:
Telescopic design allows users to adjust the height with ease
Easy to move yet excellent stability during use
Perfectly suited to baseball & softball batting practice
Don't just take our word for it
it does the job, seems to be ok
Robust - does the job nicely.
The materials are strong and durable. The top half of the tee can take some serious hits. Sometimes it pops out if it's not pushed in very far put it takes no damage and it's easy to put back. The tee stands up well and it's easy to assemble. My team uses it for softball and it's a great training aid for batting.
Want to chat?
We're here on

live chat

right now!
Or via phone or email if you'd prefer...
Questions & answers
Ask fellow customers what they think!
Hide Q&As
Questions & Answers
1 question | 1 answer
What is the adjustable height
Hello Rowena, Thank you for your question. The batting tee has a minimum height of 55cm (21.6inches) and a maximum height of 1.2m (4ft). So it can be altered to any height in between. If you have any further questions please do let me know. Many thanks, Tom
You may also like
FORTRESS Ultimate Baseball Batting Cage & Poles
£448.99
10ft x 10ft x 10ft Net Insert For Batting Cages [Ultra Heavy Duty]
£119.99