Baseball Netting - Premium Quality [Made To Any Size]
Baseball Netting - Premium Quality [Made To Any Size]

Professional-Grade HDPP Baseball Netting - For Cages & Backstops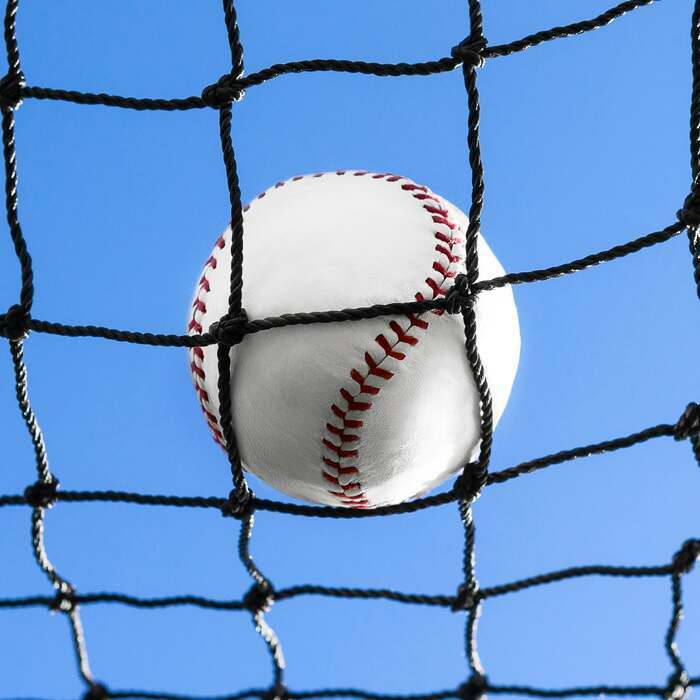 EXCELLENT PROTECTION
Ideal for protecting crowds & properties, this baseball netting features a 48mm knotted mesh construction to provide exceptional resistance against fiercely struck baseballs.
PREMIUM NET TWINE
Created using industrial strength HDPP to guarantee long-lasting performance. Netting is UV treated for weather-resistance & features 6mm border rope edges.
CUSTOM LENGTH
Available in 11 different heights, this premium-grade baseball netting can be cut to any length you desire. Ideal for back stop netting, batting cages, pitch divider curtains & more.
Description
Premium Grade Baseball Netting – Made To Your Chosen Size For Various Applications
Heavy duty baseball stop netting protects players, coaches, spectators and building/fixtures from high velocity ball impact damage indoors and outdoors.
Our premium quality baseball stop nets are ideal for:
Batting Cages
Practice Lanes
Retractable Curtains/Divider Nets
Perimeter/Backstop Post Systems
Spectator Protection
Roof/Side Protection Netting
Protection Screens
Our baseball netting can be cut to any requested size and is available in 3 thicknesses/strengths; 2mm, 2.5mm and 3mm (see comparison table below for info). Our range of baseball nets can be used both indoors or outdoors and is strong enough to stop balls being struck by all ages/levels of baseball (backyard/youth/high school/college/commercial/pro grade).
At Net World Sport we believe that our knotted HDPP (polypropylene) baseball netting is the best all round choice and offers the best value compared to other materials. Our baseball nets are strong, long lasting and easy to hang/fit.
This is why:
HDPP (polypropylene) is a plastic type of material that is rot proof, this makes the netting ideal for outdoor use as well as indoor
As well as being weatherproof the entire net is UV treated for added protection against sunlight damage to increase net lifespan
The HDPP (polypropylene) square mesh netting is soft and drapes well for ease of hanging on wires or tying onto frames
Net twine strands are specially bonded (glued together) and coated, this gives the netting increased abrasion resistance against the baseball seam thus increasing lifespan of the net
The netting's square meshes are knotted together for reinforcement and added stability, if one mesh breaks the entire net will not fall apart (broken mesh can be easily fixed with repair twine)
Net edges (top/bottom) have machined stitched 6mm border rope to add extra strength/reinforce net edges, handy for hanging nets on wires
Our baseball netting can also be used for other applications including (but not limited to):
Multi-Sport Ball Stop Netting (Football/Tennis/Rugby/Cricket/GAA/Hurling/Lacrosse/Field Hockey/Basketball/Handball/Netball/Pickleball)
Drone Containment
Heavy Duty Anti-Bird Protection
Industrial/Rack Protection
Anti-Litter/Debris Containment Netting
Bespoke Netting: If you require bespoke baseball netting (custom size, different colour, vermin skirt sewn in, sewn into enclosure net, fire retardant treated, anything else), please contact our expert sales team for advice and prices.
Batting Cages, Backstops & Protection Screens: We stock complete kits for Batting Cages, Backstop Nets and Protection Screens if required.
Net comparison table:
Netting
Thickness
Mesh
Material
Colour
Twine Reinforcement
Weather Protection
Twine Breaking Strength
2mm Baseball Netting

2mm (0.08in)

Twisted

48mm (2in)

Knotted

Square Mesh

High Density

Polypropylene

(HDPP)

Black

Twine strands are

bonded (glued together)

to prevent unravelling

Netting is 100% UV

treated for long life

70kgs / 154lbs
2.5mm Baseball Netting

2.5mm (0.1in)

Twisted

48mm (2in)

Knotted

Square Mesh

High Density

Polypropylene

(HDPP)

Black

Twine strands are

bonded (glued together)

to prevent unravelling

Netting is 100% UV

treated for long life

100kgs / 220lbs
3mm Baseball Netting



3mm (0.12in)

Twisted

48mm (2in)

Knotted

Square Mesh

High Density

Polypropylene

(HDPP)

Black

Twine strands are

bonded (glued together)

to prevent unravelling

Netting is 100% UV

treated for long life

130kgs / 286lbs
Specifications
Premium Grade Baseball Netting Specifications
Sizes Available:
Height/Width: 4ft (1.2m) | 7ft (2.1m) | 9ft (2.7m) | 10ft (3m) | 12ft (3.7m) | 14ft (4.2m) | 16ft (4.9m) | 20ft (6m) | 25ft (7.6m) | 35ft (10.7m) | 50ft (15.2m)
Length: Made to any length requested in metres or feet, simply enter length required
Twine Thickness: 2mm, 2.5mm or 3mm | 0.08in, 0.1in or 0.12in
Materials:
Ultra heavy-duty net twine manufactured from twisted High Density Polypropylene (HDPP)
Twine strands are bonded (glued) together to prevent unravelling
Netting features superior 48mm (2in) knotted mesh – prevents net from destabilising if twine breaks
6mm border rope is machine stitched into top/bottom of netting – reinforces net edges
Baseball Netting is UV treated & weatherproof for long-lasting performance
Twine Breaking Strength:
70kgs (154 lbs) for 2mm (0.08in)
100kgs (220 lbs) for 2.5mm (0.1in)
130kgs (286 lbs) for 3mm (0.12in)
Miscellaneous:
Netting Colour: Black – other colours available on request
Rot-resistant netting is suitable for indoor & outdoor use
Ideal for batting cages, practice nets, backstop netting, protection netting & more
Can also be used for other sports, anti-bird, industrial/rack netting & more
MINIMUM ORDER VALUES APPLY - dependent on selected height value
Don't just take our word for it
Feels professional!
But need to see how long it lasts!
Sturdy, sting and weather resistant
Quality net at a great price
Construction of the net looks great. I will see the true product after I put it up.
Want to chat?
Contact us here and we'll get back to you as soon as possible.
Buy today, play tomorrow
Express delivery available
Questions & answers
Ask fellow customers what they think!
Hide Q&As
Questions & Answers
No one has asked a question yet!
You may also like
FORTRESS Ultimate Baseball Batting Cage & Poles
£448.99
FORTRESS Baseball Vinyl Net Saver With Target
£126.99
Baseball Outfield Screen
£59.99
Cable Ties for Sports Nets
£0.99