Baseball Netting - Premium Quality [Standard Size]
Baseball Netting - Premium Quality [Standard Size]
Professional Baseball Netting With Top-Quality Twine Construction
Elite Construction
Our baseball netting is created using premium 2mm polyethylene twine with a knotted design, guaranteeing exceptional longevity. 100% weatherproof, the net can stay outside all year round.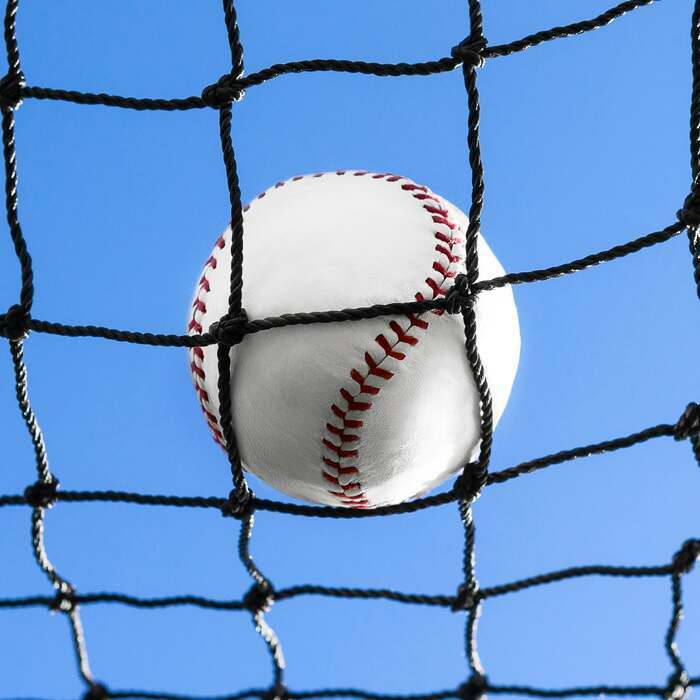 Excellent Protection
Perfect for protecting crowds on a matchday or windows in the back garden, this 48mm mesh netting with double overlocked edges is sure to stop every stray baseball fired its way.
Choose Your Length
Our Baseball Netting is completely customisable so you're able to construct a net perfectly tailored to your requirements. With 9 different heights on offer, choose any length you want!
Description
Choose The Length Of Your Professional Baseball Surround Netting
Our premium quality Baseball Netting provides the necessary protection you need for those tough matchday games. With this hard-wearing net, each heavy baseball will be stopped their tracks.
The longevity of our baseball nets will never be in question due to its weatherproof characteristics. As the HDPE twine is both rot resistant and UV stabilised, you'll enjoy year-round use from this high-quality and robust net. This baseball net provides comprehensive protection against sun and water damage, allowing you to leave it outside without the worry the net being harmed by weather exposure. Manufactured using a high-density 2mm polyethylene twine with an exceptionally high breaking strength of 200lbs (90kg), our baseball netting is completely suited to the hard hits of any ball.
Professional Baseball Surround Netting for pitches & training fields
Created using ultra durable 2mm knotted polyethylene twine
48mm mesh ensures heavy baseball impacts are easily dealt with
Netting is 100% weather-resistant & rot-proof (UV treated)
Black net features overlocked double-edges for additional strength & durability
Heights available: 4ft, 7ft, 9ft, 10ft, 12ft, 14ft, 16ft, 20ft, 25ft, 35ft & 50ft
Custom lengths available
Each baseball net has been produced to guarantee safety, with every 48mm square mesh featuring a knotted centre to maintain the overall structure of the net. The professional standard of the construction of our baseball netting ensures long-lasting quality even after continued use. For increased strength, this professional netting also comes with innovative overlocking double-edges, ensuring no baseballs will ever get through. Available in 9 different heights, you can choose a length that best suits your baseball set-up.
PLEASE NOTE: Minimum order values & lengths will be displayed once you have entered your desired length into the 'Length' box above.
Specifications
Premium Baseball Netting Specifications
Materials:

Premium polyethylene twine
Overlocked double-edged netting ensures lasting quality
Knotted twine for extra strength

Measurements:

Polyethylene twine is 2mm
Square mesh is 1 7/8in (48mm)
Available in heights of 4ft (1.2m) | 7ft (2.1m) | 9ft (2.7m) | 10ft (3m) | 12ft 3.7m | 14ft (4.3m) | 16ft (4.9m) | 20ft (6.1m | 25ft (7.6m) | 35ft (10.7m) and 50ft (15.2m)

Miscellaneous:

UV treated and stabilised for long lasting quality
Colour: Black
90kgs (200lbs) twine breaking strength
Please Note: Minimum order values & lengths will be displayed once your desired custom length is entered into the 'Length' text box
Don't just take our word for it
Feels professional!
But need to see how long it lasts!
Sturdy, sting and weather resistant
Quality net at a great price
Construction of the net looks great. I will see the true product after I put it up.
Want to chat?
Contact us here and we'll get back to you as soon as possible.
Questions & answers
Ask fellow customers what they think!
Hide Q&As
Questions & Answers
No one has asked a question yet! Be the first to ask one.
Baseball Netting - Premium Quality [Standard Size]
Thank you!
Your answer has been submitted.
We really appreciate you taking the time to help other customers, so please check your emails for a little thank you from us.
Baseball Netting - Premium Quality [Standard Size]
What would you like to know?
Thank you!
Your question has been submitted. You'll receive an email when an answer has been received.
Can't hang around? Contact us and we'll get back to you right away.
You may also like
FORTRESS Ultimate Baseball Batting Cage & Poles
£389.99
Baseball Vinyl Net Saver With Target
£109.99
Baseball Outfield Screen
£144.99
RapidFire Baseball Rebound Net
£84.99
Cable Ties for Sports Nets
£3.99
Recently Viewed
Sports Ball Radar Speed Gun - SR3600
£396.99
Football Kit Bags [4x Sizes]
£5.99
FORZA Training Football
£5.99
28mm Golf Driving Range Netting [Standard Size]
£1.28
RapidFire RF Rebounders [3 Sizes]
£79.99