FORZA World Cup Hinged Rugby Posts
FORZA World Cup Hinged Rugby Posts

Competition Grade Aluminium Hinged Rugby Posts
ULTRA-DURABLE ALUMINIUM
To ensure the frames remain strong and stable throughout matches, its bottom uprights are manufactured from 140mm OD aluminium and the top uprights from 130mm OD aluminium.
COMPETITIONS SPEC RUGBY POSTS
The perfect way to upgrade your matchday posts. The dimensions of these aluminium posts conform with IRB and RLIF regulations, making the posts suitable for Rugby Union and Rugby League teams.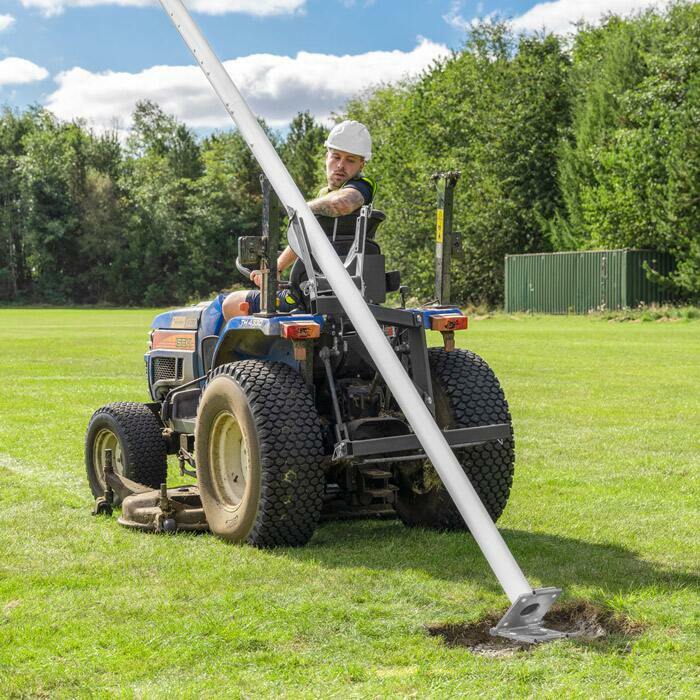 LIFTING TOOLS UPGRADE
You can upgrade your rugby post order and include one of the two rugby post lifting tools available. Select the Hinged Post Assembly Roller or Hinged Rugby Post Lifter for more efficient installation.
Description
PROFESSIONAL GRADE HINGED RUGBY POSTS AVAILABLE INDIVIDUALLY OR AS A PAIR
FORZA Hinged World Cup Rugby Posts are the chosen specification for professional rugby clubs, elite stadiums and senior international tournaments. The aluminium rugby posts boast strength & longevity compared to competitors and are supplied with hinged adaptors for safer and simpler erecting/demounting. The posts require minimal maintenance and are supplied in sections for ease of transportation and storage. Posts comply to World Rugby & Rugby League International Federation Regulations when used with rugby post protectors (sold separately).
Raising & Lowering Rugby Posts: Due to their weights, the posts must be raised and lowered via a suitable grounds vehicle or tractor at a maximum speed of 3mph.
Rugby Post Lifting Tools: Upgrade and include one of the two types of post lifting tools to fit a grounds vehicle or tractor. One type bolts onto the roll bar of a grounds vehicle, the other type has a 3 point linkage arm that fits onto the tractor. Both tools feature a roller that the rugby post upright sits on and a safety strap. The rugby post upright simply moves along this roller when the vehicle/tractor is moving.
Rugby Post Protectors: It is mandatory to have rugby post protection pads in place to prevent collision injury. Net World Sports offers custom digitally printed pads on request. Click here to view/buy custom rugby post protectors.
Professional Installation: Professional concreting into ground and setup is required via a qualified grounds contractor.
Electric Cables & High Winds: A risk assessment of the installation site should be conducted to ensure no low hanging electrical cables are in the post erection area. In high winds and bad weather, we recommend lowering the rugby posts to prevent damage.
Net World Sports offers a wide range of Rugby equipment. For Rugby Post Protectors, Pro Corner Flag & Pole [Set of 4] and more, please see the essentials above.
Specifications
FORZA World Cup Hinged Rugby Posts Specifications
DIMENSIONS:
Out of Ground Heights: 13.5m, 15m & 17m | 44ft, 49ft 56ft
Weight (per each goal end): 330kg (728lbs) and 350kg (772lbs)
Crossbar Height: 3m | 9.8ft
MATERIALS:
Bottom uprights manufactured from 142.5mm OD x 4mm thick aluminium
Top uprights manufactured from 130mm OD x 3mm thick aluminium
For 17m posts, a further top upright is added, made from 120mm OD x 3mm thick aluminium
Crossbar manufactured from 88.9mm OD x 3mm thick aluminium
Aluminium is pre-treated, and polyester powder coated white
Sockets are 1.5m deep, constructed from 142.5mm x 4mm thick OD galvanised steel
Sockets complete with welded base plate and metal drop in lids
Hinged adaptors manufactured from heavy duty welded steel components complete with high tensile nuts, bolts and washers
MISCELLANEOUS:
Sockets require concreting into the ground for stability
Conform to World Rugby & RLIF regulations when used with rugby post protectors
Hinged Rugby Post Assembly Roller (Tractor Mounted) Specifications
DIMENSIONS:
Suitable for rugby posts up to 76mm in diameter
For use with rugby posts of any length
Weight: 5kg | 11lbs
MATERIALS:
Manufactured from durable zinc plated steel
Rubber roller for smooth erection without damaging posts
Fitted with a quick release safety strap
Heavy duty 'U' bolt brackets for attachment to a compact tractor/large lawn mowers roll bar
MISCELLANEOUS:
This roller tool allows tractors/grounds vehicles so safely raise and lower hinged rugby post uprights
The tool has U-brackets that bolt to tractor/vehicle bar up to 76mm (3") square maximum
Safely erects all hinged rugby posts up to 150mm (6") OD maximum
A minimum of two people should oversee the erection or lowering of rugby posts. Please read all safety instructions before using device
Tractor/lawn mower speed should not exceed 3mph whilst raising posts
Hinged Rugby Post Lifter Specifications
DIMENSIONS:
For use with hinged uprights only (of any length)
MATERIALS:
Manufactured from 60mm square steel and houses the reversible 3 point linkage
100mm square steel upright is fitted with two solid rubber rollers
All steel zinc plated, and polyester powder coated matt black
MISCELLANEOUS:
Install, erect, dismantle and lower hinged rugby posts safely
3 point linkage fixing bolts and lynch pins are included
Device is offset, so the post safely rolls up the side of the tractor cab
Suitable to be fitted either side of a tractor using the 3-point linkage arm
Want to chat?
We're here on

live chat

right now!
Or via phone or email if you'd prefer...
Questions & answers
Ask fellow customers what they think!
Hide Q&As
Questions & Answers
No one has asked a question yet!