FORZA Complete Collegiate American Football Chain Set
FORZA Complete Collegiate American Football Chain Set
AMERICAN FOOTBALL FORZA DOWN MARKER AND CHAIN SET
Distinct Down Marker Numbers
Down box numbers come in high visibility orange and finished with white edging to ensure visibility during low light situations.
Complete Down And Distance Set
Set includes one ultra-durable down box marker and one robust galvanised steel sideline chain set, which easily helps officials with ball placement.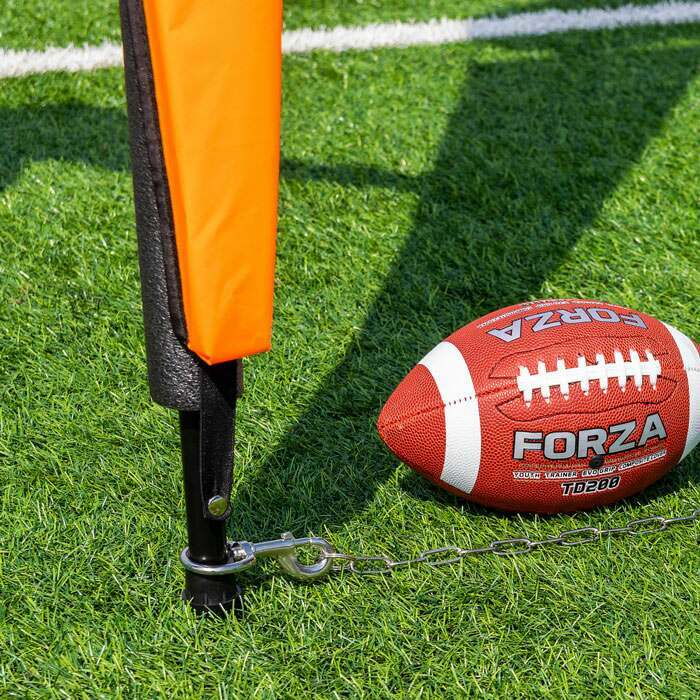 Weather Resistant Markers
Both down box marker and sideline chain feature weatherproof materials that ensure quality and performance no matter the weather.
Description
HIGH-QUALITY COLLEGIATE AMERICAN FOOTBALL CHAINS
The vibrant FORZA Complete Collegiate American Football Chain Set allows officials, coaches, and players to highlight all important first downs. The American football chains set is manufactured from weatherproof materials to withstand endless use from one season to the next. The highly durable American football down box marker sits atop a padded two-piece powder coated aluminium pole, which is also weather resistant preventing rust and corrosion. This is combined with the protective padding on the post to reduce injury risk from collisions. The sideline chain set is designed from a robust galvanised steel, which combats against the harshest weather conditions. Made from a weatherproof PVC vinyl, the banners' chevrons can be easily cleaned.
Down box marker and chain set can be purchase separately
Highly visible numbers with white edging for easy detection on-field
Set includes 1x down box marker and 1x distance sideline chain set
Weather resistant down markers and chains set for many seasons to come
Both down marker and chain set are encased with padding for collision safety
You can browse Net World Sports which offers a wider range of American football equipment and more.
Specifications
FORZA COMPLETE COLLEGIATE AMERICAN FOOTBALL CHAIN SET SPECIFICATIONS
WHAT YOU GET:
1x Sideline Chain Set
1x Down Box Marker
DIMENSIONS:
Down Box Marker Height: 7ft 4in (2.2m)
Down Box Marker Number Height: 11.5in (29.2cm)
Sideline Chain Set Height: 8ft (2.4m)
MATERIALS:
Down Box Marker: Fully padded foam
Down Box Marker Pole: Powder coated two-piece aluminium pole
Sideline Chain Set: Fully padded PVC vinyl banner with galvanised steel chain
Sideline Chain Set Pole: Powder coated two-piece aluminium pole
MISCELLANEOUS:
American football field equipment is weatherproof
Orange numbers with white edging to provide exceptional visibility
Complete set includes American football down box marker and sideline chain set
Down box marker and sideline chain set are available separately in the drop-down
Want to chat?
Contact us here and we'll get back to you as soon as possible.
Buy today, play tomorrow
Express delivery available
Questions & answers
Ask fellow customers what they think!
Hide Q&As
Questions & Answers
No one has asked a question yet!
You may also like
FORZA American Football Goal Posts [Pair]
£7,449.99
10 x 6 FORZA American Football/Football Combination Goal Posts
£139.99
8 x 5 FORZA Steel42 American Football/Football Combination Goal Posts
£169.99
FORZA American Football Tackle Shield With Double Wedge [Pro Model]
£74.99