FORTRESS English Willow Cricket Bat [4 Grades]
FORTRESS English Willow Cricket Bat [4 Grades]

DURABLE FORTRESS TEST MATCH CRICKET BATS – ENGLISH WILLOW DESIGN
MAXIMUM PERFORMANCE
All cricket bats are manufactured with high performance in mind, for various cricket match types suited to all batter levels. Toe guard & scuff sheets prevent cracks/splits.
PREMIUM CONSTRUCTION
The English Willow Cricket Bats have been manufactured with premium materials for enhanced longevity with balance throughout, thanks to the concaved spine & English willow design.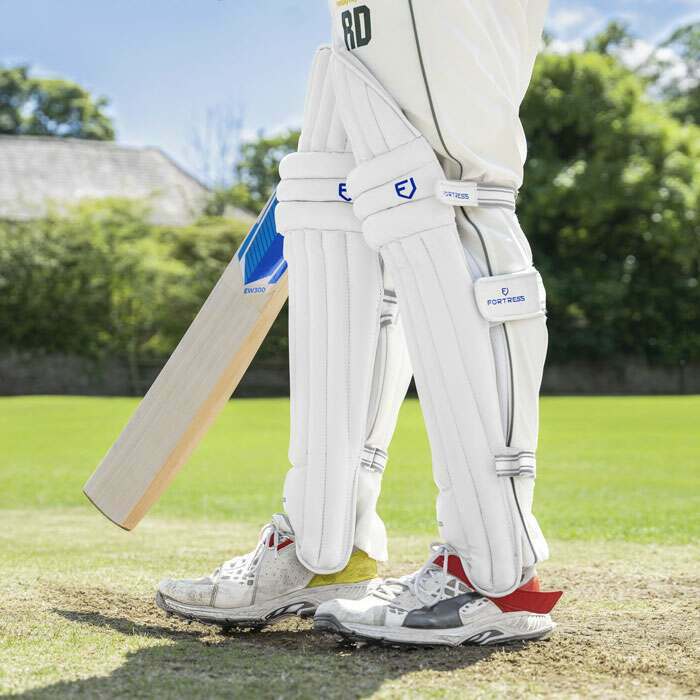 COMPLETE THE LOOK
Ensure you have all the correct batting equipment to stay protected when you are at the crease. For batting pads, batting gloves, glove inners and more, please click here.
Description
ENGLISH WILLOW CRICKET BATS - MULTIPLE BAT GRADES FOR ALL ABILITIES
These professional English Willow Cricket Bats are available in a range of grades & sizes for multiple ages or abilities. Each cricket bat is constructed with optimum performance in mind for training & match environments, thanks to the 100% handcrafted naturally dried wood & top grade English Willow. A semi oval shaped handle is featured to ensure batters have good feedback through each shot. All bats feature a durable Singapore cane handle with textured rubber for increased batting grip, & a natural buff finish which is essential for long-lasting use. Grade 4, 3, 2, & 1 bats are suited to the highest levels of the game which includes Test, ODI's & T20 matches. A concave spine allows players to have a lighter pick-up with reduced weight. Toe guard & scuff sheets are featured to prevent cracks/splits from occurring, increasing bat reliability against high velocity ball impact.
Various cricket bat grades & sizes available for multiple ages, abilities & cricket level
Premium English willow is constructed with each bat which is used by professionals
All bats boast a toe guard & scuff sheet to prevent cracks & splits for longevity
Concaved spine allows a lighter pick-up with reduced weight for batters with ideal balance
Semi oval shaped Singapore cane handle with a textured rubber for enhanced batting grip
Bat Construction:
| | | | | | |
| --- | --- | --- | --- | --- | --- |
| Bat Size | Weight | Edge Thickness | Blade Width | Handle Diameter | Handle Length |
| Short Handle (Heavy) | 2lbs 11oz - 2lbs 13oz | 38 - 40mm | 107mm | 31mm | 290 - 300mm |
| Short Handle (Light) | 2lbs 7oz - 2lbs 10oz | 37 - 39mm | 105mm | 31mm | 290 - 300mm |
| Harrow | 2lbs 4oz - 2lbs 7oz | 36 - 38mm | 104mm | 29mm | 280 - 290mm |
| Size 6 | 2lbs 1oz - 2lbs 4oz | 34 - 36mm | 102mm | 27mm | 270 - 280mm |
Specifications
FORTRESS ENGLISH WILLOW CRICKET BATS SPECIFICATIONS
GRAINS & SWEET SPOT:
Grade 1 Grains: 6 - 10
Grade 2 Grains: 5 - 7
Grade 3 Grains: 4 - 6
Grade 4 Grains: 3 - 5
Grade 1 & 2 Sweet Spot Range: 140mm – 160mm | 5.5in – 6.3in
Grade 3 & 4 Sweet Spot Range: 160mm – 180mm | 6.3in – 7.1in
Sweet spot is recorded from the toe of the bat, upwards to where would be considered as the start of the sweet spot
The FORTRESS English Willow Cricket Bats have low to mid blade sweet spots
MATERIALS:
English Willow
100% Handcrafted Wood
Naturally Dried Wood
Singapore Cane
Natural, Unbleached Finish
MISCELLANEOUS:
Available as short handle, harrow & size 6
Conforms to MCC Standards
Blue/white batting handle
Scale textured handle
Grade 1 & 2 feature straight/narrow grains
Grade 3 features prominent grains
Grade 4 features wide grains
Cricket bats are pre-treated & knocked in, but we recommend they should be knocked in further
Regularly treat cricket bat to prolong lifecycle to avoid cracks/splits
PLEASE NOTE: We cannot guarantee the number of grains or weight as they vary between the ranges
For more information on finding the correct bat size, please refer to our detailed size guides HERE.
Don't just take our word for it
I play for my local cricket club and this bat does what it says on the tin. Great quality and still in good nick after half a season. I got the Harrow size, grade 2 bat.
Want to chat?
We're here on

live chat

right now!
Or via phone or email if you'd prefer...
Buy today, play tomorrow
Express delivery available
Questions & answers
Ask fellow customers what they think!
Hide Q&As
Questions & Answers
No one has asked a question yet!