Football Corner Flags (Spring Loaded)
Football Corner Flags (Spring Loaded)
Nylon Football Corner Flags & Spring Loaded, Weatherproof PVC Poles
Spring Loaded Corner Flags
Manufactured with safety in mind, the base of each corner flag pole is spring loaded to greatly reduce the impact of head on collisions.
Visible From All Over The Pitch
As used by the CPL, these 5ft tall and 2.5cm regulation size football corner flags are easy to spot from every area of the pitch.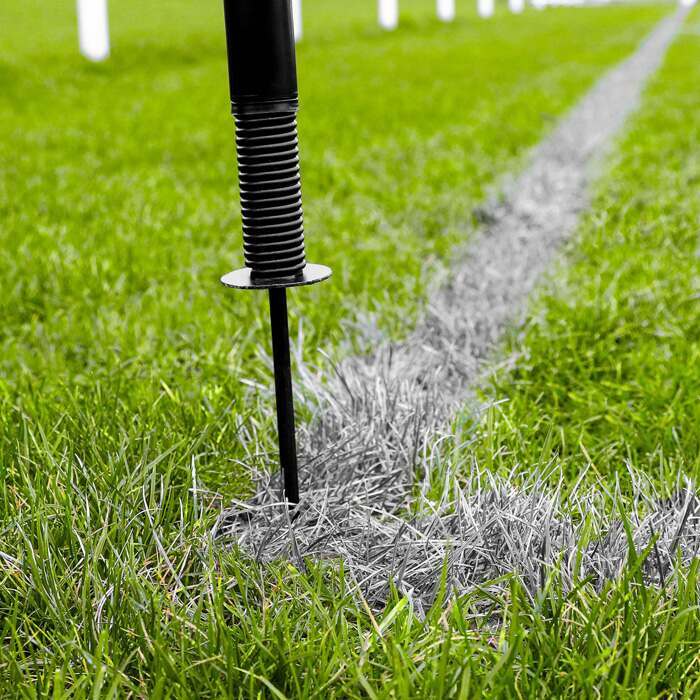 Ultra-Durable PVC Poles
The football corner flag poles are manufactured from weatherproof PVC which will not degrade after continual exposure to heavy wind and rain.
Description
Spring Loaded 5ft Football Corner Flag Poles Available In Packs Of Four Or Six
Guarantee player safety with these 5.4ft (1.7m) tall football corner flags, which are 5ft (1.5m) once placed into the ground. The poles are fitted with spring loaded bases to minimise the impact of accidental collisions between players and the corner flags. Each pole is supplied with an 11 inch (30cm) x 11 inch (30cm), single colour nylon flag. Available in packs of four or six.
Flag poles are 5.4ft (1.7m) out of the ground and 5ft (1.5m) when planted.
Poles are 2.5cm (1 inch) in diameter.
Spring loaded bases minimise the risk of injury.
Weatherproof PVC poles.
11 inch (30cm) x 11 inch (30cm) nylon corner flags.
Corner flags are supplied in a single colour.
Available in packs of four or six.
Designed to greatly reduce the risk of injury, these football corner flags are constructed with extremely flexible spring loaded bases, allowing the poles to bend in any direction when struck. This mechanism absorbs the impact from an incoming player, softening the blow to ensure they can carry on, injury free.
Standing at 5ft (1.5m) tall when placed in the ground, these corner flags can be seen from every blade of grass on the pitch. Manufactured from weatherproof PVC, 2.5cm (1 inch) in diameter the corner poles remain upright during strong winds and will not deteriorate after prolonged exposure to sunlight or heavy rainfall. 11 inch (30cm) x 11 inch (30cm) nylon flags sit on top of each corner pole. The large size of the flags and their vibrant colour helps players and referees to determine whether the football was kicked out for a corner or a throw-in.
Specifications
Spring Loaded Football Corner Flag Dimensions
Pole length: 5.4ft (1.7m)
Poles length in the ground: 5ft (1.5m)
Flags: 11 inches (30cm) x 11 inches (30cm)
Materials
Poles: Weatherproof PVC
Flags: Ultra-Durable Nylon
Miscellaneous
Poles are spring loaded
Flags will be supplied in one colour
Available in packs of four or six
Compatible with Corner Flag Rubber Bases
Want to chat?
We're here on

live chat

right now!
Or via phone or email if you'd prefer...
Buy today, play tomorrow
Order by 9pm for next day delivery
Questions & answers
Ask fellow customers what they think!
Hide Q&As
Questions & Answers
2 questions | 2 answers
Can you give me a price to supply 12 of these with Orange flags please
I bought the corner flags last year but last week we lost a spring base, do you sell the base separately or even individual corner flags rather than having to buy a set of 4? Thanks
Hi Paul, Thanks for getting in touch. Unfortunately we are unable to sell an individual corner flag and pole however if you get in touch with our sales team we will do our best to rectify this situation out for you. We can be reached via the contact form or over the phone. If there is anything else we can help with then please let us know. Kind regards, Adam
You may also like
Coloured Corner Flags (4 Pack) [8x Colours]
£9.99
Rugby Pro Corner Flag
£79.99
StadiumMax Wheel Transfer Line Marker - For Sports Pitches
£279.99
21 x 7 FORZA Alu110 Freestanding Stadium Box Football Goal
£2,099.99