FORTRESS 55ft Baseball Batting Cage Nets [2 Piece Cage]
FORTRESS 55ft Baseball Batting Cage Nets [2 Piece Cage]

Premium Impact Resistant FORTRESS Baseball Batting Cage Nets
Impact Resistant
The netting is manufactured using twisted knotted twine for strength & durability. Guaranteed to resist all baseball strikes & fastballs for a reliable performance & enhanced training sessions.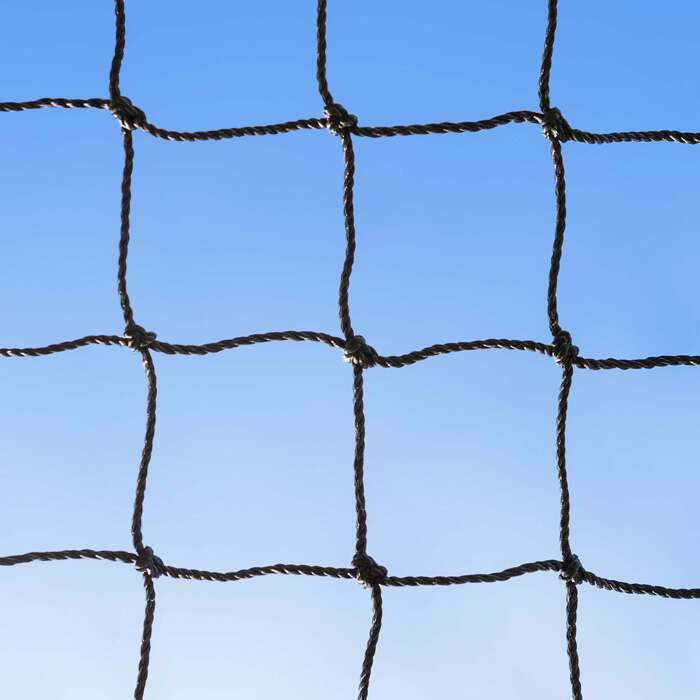 Various Sizes
Baseball nets for the batting cage frames are available in various sizes to suit your requirements. Use the nets to create the complete baseball set up for batting practice for all abilities.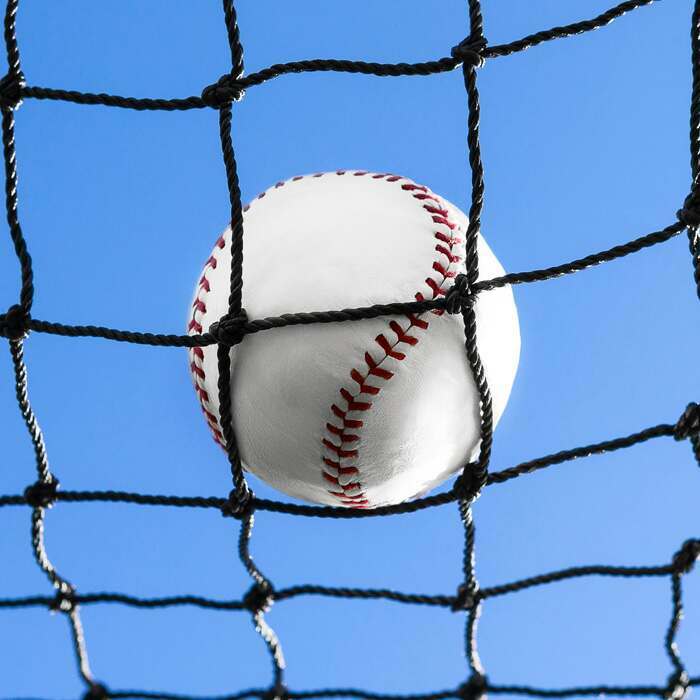 100% Weatherproof
The FORTRESS baseball net is UV stabilised & rot proof for long lasting performance. The 100% weatherproof composition makes the netting perfect for outdoor use all year round.
Description
Professional Quality Netting For Training Baseball Batting Cage
This FORTRESS 55ft two-piece cage net is manufactured with a twisted twine designed to withstand high velocity strikes & fastballs from your pitchers. With four different sizes to pick from, the two-piece net is suitable for every practice facility, whether it's at home or the ballpark, the FORTRESS net offers your players the ultimate professional standard training arena. The FORTRESS net is delivered in two pieces, with one net piece for the complete perimeter, whilst the other net piece delivered is for the roof. The FORTRESS net is UV stabilised and rot proof, meaning your batting cage is long lasting.
Ideal for batting practice at home training areas or for baseball clubs
Durable knotted twine is impact resistant & can withstand powerful strikes
Batting cage nets are UV resistant & rot proof suitable for outdoor use
Supplied as 2-piece net – one for the perimeter & the other for the roof
Available in various net sizes & twine grades to suit your requirements
Net World Sports stocks a wide range of FORTRESS Baseball equipment designed to enhance both your facilities & your game. For baseball cage accessories please see the essentials above.
Specifications
FORTRESS Baseball Batting Cage Nets Specifications
Available Net Sizes:
55ft L x 10ft W x 10ft H | 16.8m L x 3m W x 3m H
55ft L x 12ft W x 12ft H | 16.8m L x 3.7m W x 3.7m H
55ft L x 14ft W x 12ft H |16.8m L x 4.3m W x 3.7m H
Dimensions:
Twine Grades Available: #36, #42 or #62 weight
Mesh Size: 1.75in square | 4.5cm square
Materials:
Ultra-durable twisted knotted twine
Miscellaneous:
All long sides are fully overlocked
UV stabilizes & rot proof for long-lasting use outdoors
Delivered in 2 pieces (one length of net for the complete perimeter & one piece for the roof)
Colour: Black
PLEASE NOTE: This package DOES NOT include cable ties. If you require cable ties, please see the essentials above
Don't just take our word for it
The net arrived early and was really easy to set up using the cable ties we purchased. Less than an hour after we started the kids were making use of the net
Want to chat?
We're here on

live chat

right now!
Or via phone or email if you'd prefer...
Questions & answers
Ask fellow customers what they think!
Hide Q&As
Questions & Answers
4 questions | 4 answers
Is that 12ft height and 14ft wide and 55ft long.
Hi Jacob, thank you very much for taking the time to ask a question. Yes, you are correct in thinking that this is 12ft high & 14ft wide.
Many thanks,
How do you connect the top and sides? Zip ties or knots?
Hi Joe, thank you very much for the enquiry. Yes, you are correct in thinking this. The majority of people with either use ties such as, zip/cable, velcro or elastic bungee ties or they will use fixing twine to tie the two pieces together. All of the methods I have mentioned are available to be purchased from our site.
Many thanks,
Grant
will this net hang from the hooks on cables like the jugs multi sport net i am looking to replace does? also it is two piece, does it come as one or do i have to contend with two pieces to hang the net? Thank you!
Hi John, Thank you for the question.
You would of course be able to hang this on cables. A wire tension kit could span across a given area providing overhanging support for the net to hang from.
The wire tension kit is listed below.
https://www.networldsports.com/netting-hanging-wire-kits.html
The netting would be a complete piece.
If you have any questions please do get back in touch.
Many thanks,
Ryan
Hello Tony, Thank you for your question. Unfortunately this netting is only available in black. For any custom enquiries we can get different colours and sizes suited to your preferences. Please email sales@
networldsports.com
so we can get pricing sent across for you. Many thanks, Tom
You may also like
FORTRESS Baseball Netting - Premium Quality [Made To Any Size]
£1.99
FORTRESS Pop-Up Baseball Sock Net Screen
£59.99
FORTRESS 40ft Baseball Batting Cage Nets [2 Piece Cage]
£290.99
FORTRESS Trapezoid Baseball Batting Cage [Complete Package]
£574.99