FORZA Pro A4 Sport Coaching Folders [10 Sports Available]
FORZA Pro A4 Sport Coaching Folders [10 Sports Available]
Handheld Magnetic Tactics Folders With Regulation Pitch Markings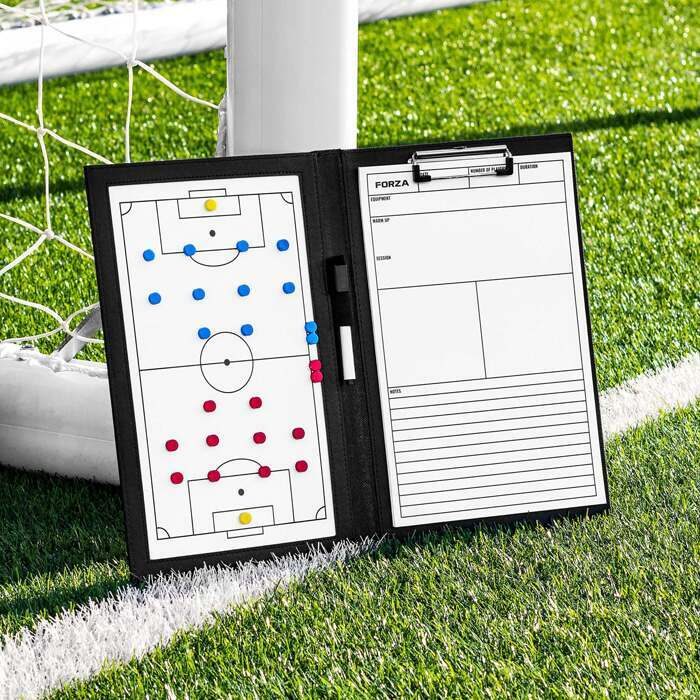 Durable And Weatherproof
The A4 sports coaching folder has been designed to provide multiple seasons worth of use. Manufactured from a PU material, the tactics board offers supreme durability in all weather conditions.
Double Sided Coach Folder
Featuring everything a coach needs for tactical analysis, the left hand side of the folder displays a PVC dry wipe whiteboard with pitch markings, while the right side has a match/session planner.
Tactics Board For Multiple Sports
There are ten sport-specific variations to choose from, each featuring a complete set of magnetic markers - football, futsal, netball, American football, rugby, hockey, ice hockey, lacrosse, baseball and basketball.
Description
Professional Quality A4 Coaching Tactics Folders For A Wide Range Of Sports
Providing coaches with everything they need for pre-match and in-game tactical analysis, the FORZA A4 sport tactic folders are a premium piece of sports coaching equipment. Lightweight and easy to transport between playing arenas, the sleek design of the coaches folder offers an executive touch without sacrificing on efficiency or durability. Coming in ten sports-specific variations with tailor regulation pitch displays on each, the A4 sports coaching whiteboards will aid coaches of all standards to implement their playing philosophy.
A4 coaching folders for football, futsal, netball, rugby, basketball, American football, lacrosse, baseball, hockey and ice hockey
Weatherproof tactics folder manufactured using a PU material for enhanced durability during all weather conditions
Double-sided sports folders with a PVC dry wipe whiteboard with pitch markings on the left side and match/sessions planner on the right
Each A4 coaching folder comes with a complete set of sports-specific magnets and a whiteboard pen with attached eraser
Alongside the sports tactical planner is a strong metal clip and a pen holder to keep the pen and paper held securely
Suitable for use in all conditions, the handheld sports coaching and tactics folder allows for training sessions and matchday plans to be dynamically plotted outdoors throughout the year. The weatherproof coach folder is exceptionally durable due to its polyurethane manufacturing, which enhances the lifespan and all-weather performance afforded by the tactics board. The compact A4 size allows coaches to keep the tactical folder near by at all times, improving the quality of matchday and training ground analysis. Ideal for coaches and managers from grassroots to the professional leagues, the A4 coaching folder is the best way to get your tactical message across.
Opening up to reveal two sides worth of space for tactical notes, the dual-sided coaching folder brings your match-winning ideas to life. The left side of the A4 tactics folder comprises of a PVC dry wipe coaching whiteboard, with specific regulation pitch markings to match each sports. On the right hands side, the coaching planner features a heavy-duty metal clip to hold notes and a holder for the included whiteboard pen. As well as the pen, each tactical board for sports coaches comes with a full set of magnetic markers and an eraser, allowing coaches to make alterations to their tactics with ease.
Net World Sports stocks a huge range of coaching and tactics folders, with various sizes available for various sports.
Specifications
Dimensions
A4 size – 21cm x 30cm (8.3in x 11.7in)
Materials
PU material for enhanced durability in all weather conditions
Left side is a PVC dry wipe whiteboard with regulation pitch markings
Right side is a match/session planner with a durable metal clip and pen holder
Magnet markers, whiteboard pen and eraser included
Marker Quantities For Each Sports
Football Coaching Board - 12 red markers, 12 blue markers, 2 yellow markers
Futsal Coaching Board - 5 red markers, 5 blue markers, 2 yellow markers
Netball Coaching Board - 8 red markers and 8 blue markers
Rugby Coaching Board - 16 red markers and 16 blue markers
Baseball Coaching Board - 9 red markers and 9 blue markers
American Football Coaching Board - 12 red markers and 12 blue markers
Lacrosse Coaching Board - 10 red markers, 10 blue markers and 2 yellow markers
Basketball Coaching Board - 6 red markers and 6 blue markers
Ice Hockey Coaching Board - 6 red markers, 6 blue marker and 2 yellow markers
Hockey Coaching Board - 11 red markers, 11 blue markers and 2 yellow markers
Want to chat?
We're here on

live chat

right now!
Or via phone or email if you'd prefer...
Buy today, play tomorrow
Order by 9pm for next day delivery
Questions & answers
Ask fellow customers what they think!
Hide Q&As
Questions & Answers
No one has asked a question yet! Be the first to ask one.
FORZA Pro A4 Sport Coaching Folders [10 Sports Available]
Thank you!
Your answer has been submitted.
We really appreciate you taking the time to help other customers, so please check your emails for a little thank you from us.
FORZA Pro A4 Sport Coaching Folders [10 Sports Available]
What would you like to know?
Thank you!
Your question has been submitted. You'll receive an email when an answer has been received.
Can't hang around? Contact us and we'll get back to you right away.
You may also like
Football Tactics/Coaching Board Carry Bags
£3.99
FORZA 45cm x 30cm Double-Sided Sport Coaching Tactics Boards [10 Sports Available]
£19.99
FORZA 150cm x 120cm Double-Sided Wheeled Sport Coaching Whiteboards [5 Sports Available]
£329.99
FORZA 90cm x 60cm Double-Sided Sport Coaching Board [10 Sports Available]
£49.99
FORZA Sport Coaching Clipboard [10 Sports Available]
£9.99