FORZA Flat Disc Markers [All Colours]
FORZA Flat Disc Markers [All Colours]
ALL-WEATHER RUBBER MARKER DISCS FOR MATCHDAY WARM-UPS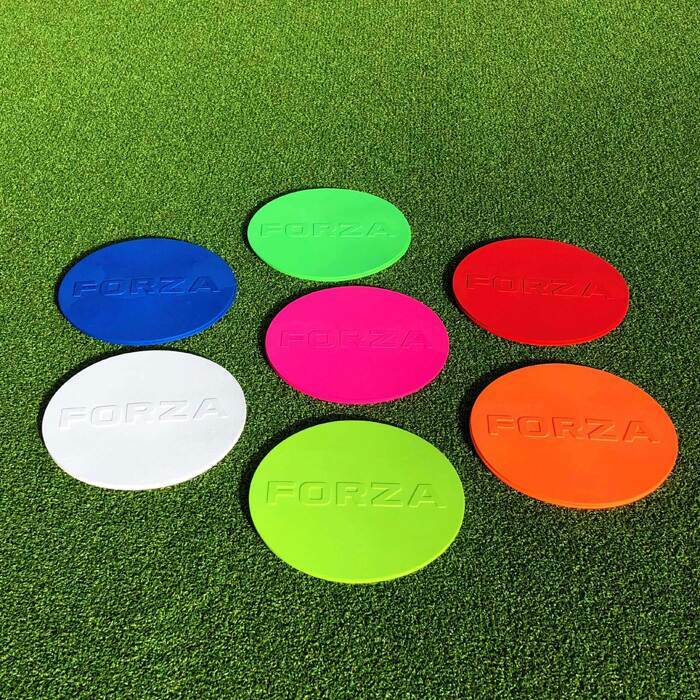 Ultimate Grip on All Surfaces
Ideal for training across Astroturf, grass and indoor surfaces, the agility disc cones provide unrivalled grip to combat the harshest winds.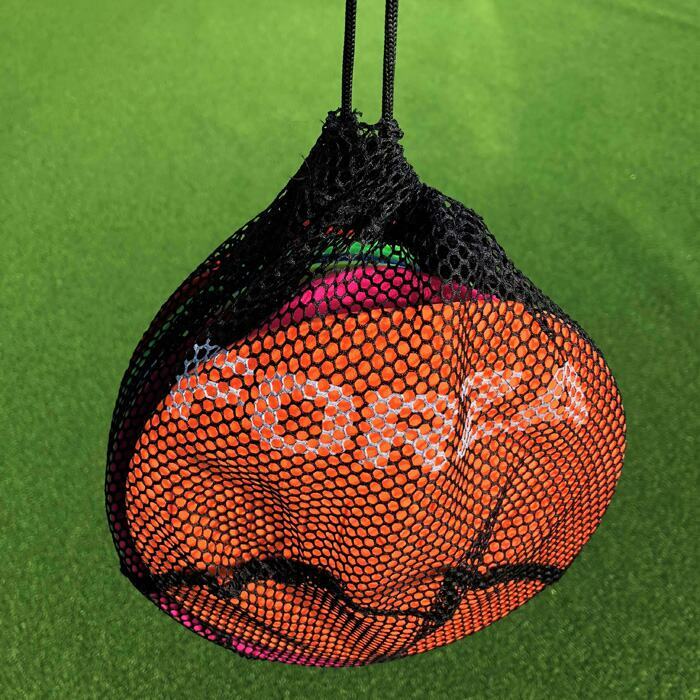 Revolutionise Training
Designed to allow uninterrupted play, these flat disc markers are perfect to show starting positions when coaching players on team shape and formations.
High Visibility Training Markers
The range of highly visible colours allow the FORZA Flat Disc Markers to be easily seen at all times and in the harshest weather conditions.
Description
MULTI-SURFACE FLAT RUBBER MARKERS FOR FOOTBALL TRAINING
The FORZA Flat Disc Markers provide complete visibility for coaches, when marking out training drills for practice. Available in an array of ultra-visible fluorescent colours, the flat cones allow footballs to simply glide over without changing their shape. Manufactured from soft and durable PVC, for a rubber-like feel, the flat disc markers provide high-quality grip across all surfaces. The excellent grip also combats against the harshest of winds and can be used in all-weather conditions. The rubber disc markers allow a constant flow of training, which is uninterrupted so players can attain complete focus on key football fundamentals.
Durable PVC provides excellent grip across all surfaces and harsh winds
Player and coaches can achieve a constant flow of training
Diversify football drills that are best suited to player individual needs
The flat disc markers allow footballs to be conveniently rolled over
Available in various amount of colour for complete visibility
Net World Sports offers a wide range of football equipment. For more, please view the Football category above.
Specifications
FORZA FLAT DISC MARKERS [ALL COLOURS] SPECIFICATIONS
DIMENSIONS:
MATERIALS:
MISCELLANEOUS:
20-capacity carry bag included
FORZA branding across flat discs
10 flat disc markers per pack
Colours available: Red, Electric Blue, White, Pink, Fluro Orange, Fluro yellow, Fluro Green, Sky Blue
Multi-coloured option includes: 2x Red, 2x Orange, 2x Yellow, 2x Green, 2x Blue
Don't just take our word for it
Easily mark out the drama studio without damaging the floor.
Excellent product. Can't fault them.
I use the flat discs at my dance classes to ensure the children know where to stand. Highly recommend as they do not get in the way.
I bought these cones for my under 9's training sessions and they work perfectly. We can mark out pitch areas and the game isn't disrupted by the ball hitting cones or by the boys standing on them. The bright colours of the cones make sure they stand out and the carry bag provided means that they can easily be stored.
Want to chat?
We're here on

live chat

right now!
Or via phone or email if you'd prefer...
Questions & answers
Ask fellow customers what they think!
Hide Q&As
Questions & Answers
5 questions | 5 answers
Is the "Forza" branding on both sides ? I do need a flat surface for my application
Hi Gavin, thank you very much for the enquiry. The Flat Disc Markers are only branded on one side.
Many thanks,
Hi, can I ask how grippy they are for indoors in a sports hall please? Thank you
Hi Jane, thank you very much for taking the time to contact us. The flat disc markers are made from a soft PVC which offers super grip on all surfaces. If you have any further questions please email sales@
networldsports.com
Many thanks, Ryan.
What are the colours I get if I select multi ?
Hi Scott, Thank you for your question. The multi coloured markers come in the following colours Red, Blue, White, Pink, Fluro Orange, Fluro Yellow and Fluro Green. Each of these colours are also available to be purchased separately. If you have any further questions please email sales@
networldsports.com
Many thanks, Tom
Hi, What is the diameter of the flat disc markers?
Hi John, thank you very much for the enquiry. The diameter of this product is 7" (17.5cm).
Many thanks,
Grant
What size packs do the flat disc markers come in ?
Hello Jon, thank you very much for taking the time to contact us. The Flat Disc Markers are sold in packs of 10.
Many thanks,
Grant