FORZA Football Rebound Wall
FORZA Football Rebound Wall

FORZA Football Rebound Wall - Improve Passing & Shooting Skills
HIGH QUALITY FOOTBALL REBOUNDER
Use the football rebounder indoors and outdoors. It's freestanding steel frame makes it very durable and hard wearing to withstand impact from well struck balls.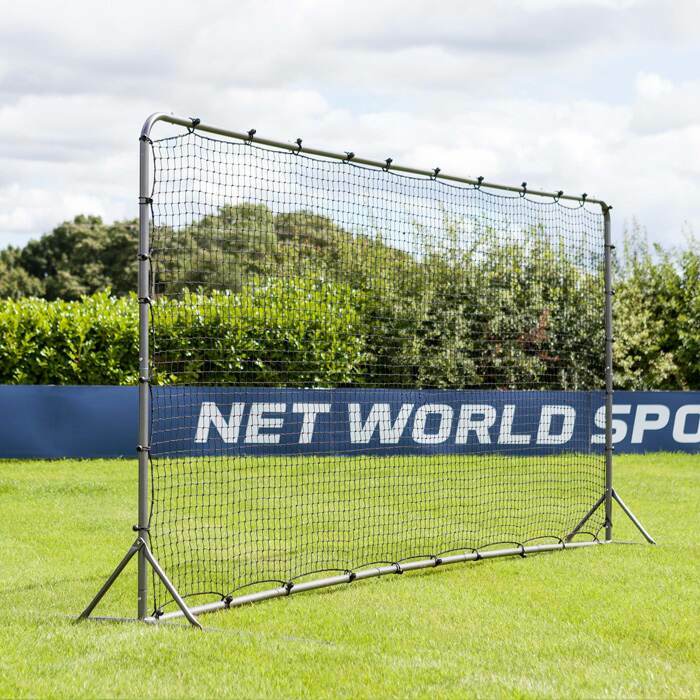 REALISTIC FOOTBALL REBOUND NET
The taut net reacts to how hard you strike the ball. This can affect the power and quality of the rebound making a great piece of training equipment to simulate match day passes.
MULTI-SKILL FOOTBALL TRAINING
Develop and improve a vast array of techniques and football drills with the rebound wall. You're not confined to one or two drills, make the most of the versatility the rebound wall provides.
Description
FORZA FOOTBALL REBOUND WALL – REBOUNDER FOR MULTI-SKILL TRAINING DRILLS
FORZA Football Rebound Wall is an excellent choice for working on a wide variety of football drills and techniques. Improve your first touch, passing, shooting and more. The spring-loaded net is designed to rebound realistic balls with unpredictable bounces to recreate scenarios from a match game. It's freestanding design allows the rebounder to be used on any flat surface. Perfect for your garden or on the training ground. Ideal for schools and sports clubs.
Dual-sided football training rebound wall
Manufactured with heavy duty galvanised steel
Football training equipment for multi-skilled drills
Choose between two sizes – 12ft x 6ft or 16ft x 7ft
Excellent choice for schools and football clubs
Specifications
FORZA FOOTBALL REBOUND WALL SPECIFICATIONS
DIMENSIONS
12ft x 6ft | 3.6m x 1.8m
16ft x 7ft | 4.9m x 2.1m
MATERIALS
2mm net with reinforced edges
Durable galvanised steel frame
MISCELLANEOUS
Can be used in your garden as well as the training ground
Highly sturdy, robust and designed for long lasting use
Don't just take our word for it
Having coached the local youth team for the past 5 years, this rebound net has been the best piece of equipment I've used. As I coach junior players, I opted for the 12 x 6 net, although I noticed a larger size available in the drop-down. Our facility doesn't have a great deal of storage space, but the foldaway frames allow us to stow it away with ease. The rebound net itself gives off a substantial bounce, and the fact that it can be used for multiple players as well as individuals is a huge plus point. We use this rebounder to train players in every position, and it's taken its fair share of impact but still looks as good as new. I'd recommend this double-sided net to any coach looking for high quality and reliable training gear.
Want to chat?
We're here on

live chat

right now!
Or via phone or email if you'd prefer...
Questions & answers
Ask fellow customers what they think!
Hide Q&As
Questions & Answers
4 questions | 4 answers
For a net so tall, have there been any complaints with it tipping over frequently, on hard shots?
Hello Jason, thank you very much for the question. I don't think we have ever received any complaints about this. I have tested the product myself recently and it's incredibly sturdy when used correctly. Please note, it is not used to strike the ball at as if you were trying to score a goal. It can withstand a decent impact, just don't get to carried away!
Many thanks,
Grant
Can the rebound wall be left out all year? I can see the frame is galvanised but wondering how durable the net and bungee cords are. This is ref the 12x6 wall. Thanks.
Hi Rob, thanks for your enquiry. The rebound wall is designed to be left out all year round yes. As you mentioned it has a galvanised frame meaning it is protected from the weather but the net is also UV stabilised meaning it is rot proof. It is also very durable allowing for constant and heavy use. I hope this helps. Many thanks, Adam
How big are the netting holes? Is it small enough it might also be used for LAX?
Hi HC, thank you very much for the enquiry. The square size for this product is 48mm, this makes it also compatible with balls such as: Tennis balls & Baseballs.
Many thanks,
Grant
Could this net be used to throw baseballs against as well? Thanks
Hello, thank you very much for the question. Yes, this product is compatible with Baseballs. You can also use this product with Footballs, Cricket Balls & Tennis Balls for example.
Many thanks,
Grant
You may also like
FORZA Pop-Up Target Goals
£14.99
FORZA 6ft Spring Loaded Slalom Training Poles [34mm]
£39.99
16 x 4 FORZA Alu60 Football Goal
£359.99