FORZA Icon Pro Match Footballs [FIFA Certified]
FORZA Icon Pro Match Footballs [FIFA Certified]

MULTI-SURFACE FORZA PRO MATCH BALL - FIFA CERTIFIED
FIFA BASIC CERTIFIED
The pro football is put through tough testing from the manufacturing process to performance, which has been awarded FIFA Basic (IMS) Certification.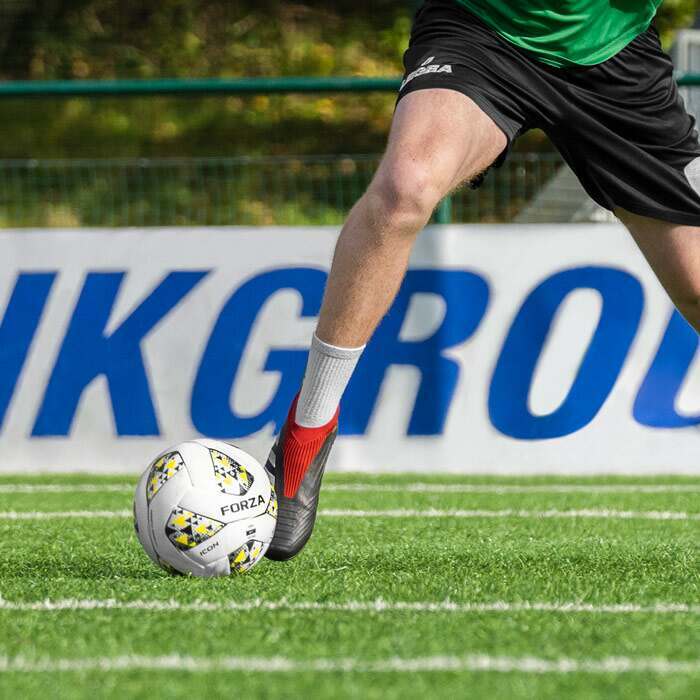 ULTIMATE FEEL & PERFORMANCE
The FIFA quality pro football is designed from hybrid construction and a butyl bladder to consistently perform at a professional level, ensuring reliable performance for all match days.
PREMIUM MULTI-SURFACE BALL
Designed with a 1.2mm (0.05in) thick surface area across all 6 panels, the all-league official football will provide a greater sense of grip and control across all surfaces.
Description
FORZA ICON PRO MATCH FOOTBALL - FIFA CERTIFIED MATCH BALL
The FORZA Icon Pro Match Football is designed for the highest stages, thanks to the professional 3D-hybrid construction. Perfect for pros and beginners alike, the FORZA Icon Pro Match Football is the number 1 choice for international leagues across the world due to the elite-level multi surface construction. Moreover, the multi-surface nature guarantees a consistent touch on Astroturf, grass and indoors. Encased with a 1.2mm (0.05in) thick surface layer and HI Abrasion PU, the high-quality match ball features a butyl bladder for a professional league grade. The rigorous FIFA testing confirms that the FORZA Icon Pro Match football is made to withstand the harshest conditions, whilst maintaining an unrivalled feel and precise performance for all players.
Hybrid construction built throughout entire football ball for longevity
Official FIFA Standard for maximum performance and consistency
1.2mm (0.05in) thick surface area, encasing all 6 panels for complete control
Hi Abrasion PU casing allows for use on multiple surfaces
Icon is available in sizes 3, 4 & 5 – suitable for all age groups
ICON Ball Elite Construction Breakdown:
Hybrid Construction and Stitching - placed inside a mould that is heated by a machine to press and glue the panels together. Hybrid constructed ball boasts greater shape retention and durability due to an integrated structure that use special glue to attach the bladder to the lining and leather firmly. Excellent roundness to reduce resistance when flying and rolling, making the ball shoots faster, while the seamless surface allows for less water uptake, helping the ball last in any weather.
Butyl Bladder - Butyl bladders have much higher air retention but slightly heavier and harder than the latex bladders. The more butyl, the better the performance of the bladders (ours has a high proportion of butyl).
Polyurethane Surface - Polyurethane was used in the design because it is flexible upon contact, but immediately returns to its original shape after being kicked. Polyurethane is also water-resistant, which keeps the ball from absorbing moisture and becoming heavier in wet conditions. It's much better than using PVC/TPU and minimises air resistance.
Net World Sports offers a wide range of football equipment. For more, please see the Football category above.
Specifications
FORZA ICON PRO MATCH FOOTBALL [FIFA CERTIFIED] SPECIFICATIONS
SIZES:
Size 3 - Kids
Size 4 - Juniors
Size 5 - Seniors
BALL CONSTRUCTION:
Hybrid Construction
Surface: 3D Structured
Lining: 1x PV 180gsm layer & 2x EVA Foam layer
Surface Layer Thickness: 1.2mm (0.05in)
Material Composition: Polyurethane based material on microfibre backing
Bladder: Butyl 2500y of polyester
Backing: Fabric
Panels: 6
Casing Material: Hi Abrasion PU
Top Finish: 3D Structured/Pearlized
Lining Adhesive: Natural Latex
MISCELLANEOUS:
Colour: White/Black/Yellow
Requires inflation before use
FIFA Basic (IMS) Certified
Don't just take our word for it
A really robust and reliable football that has been used religiously since I got it! It's been used for multiple matches and the entire ball is still as good as new.
Want to chat?
Contact us here and we'll get back to you as soon as possible.
Questions & answers
Ask fellow customers what they think!
Hide Q&As
Questions & Answers
1 question | 1 answer
Is this ball ok for 3 and 4g pitches please
Hi Christopher,

Thank you for the question.

We would recommend the ball to be used on natural grass however the ball can be used on the artificial surfaces too! We would state that the outer ball does last a little longer on natural grass as there is a lot less friction on ball-to-surface however it can still be used on artificial surfaces.

If you have any queries please do get back to us, we would be more than happy to help.

Many thanks

Ryan
You may also like
FORZA Training Footballs
£4.99
FORZA Fusion Astro Footballs
£16.99
FORZA Lunar Match Footballs
£12.99
FORZA Pro Futsal Fusion Footballs
£18.99
Recently Viewed
METIS Numbered Flat Disc Markers [10 Pack]
£9.99
FORZA Mini Flat Disc Markers [All Colours]
£10.99
Steel U-Peg Goal Anchors
£4.99
RapidFire Pop-Up Rebounder
£49.99
Vermont Mini Tennis Sets
£212.99