Freestanding Golf Cage & Net [Home Driving Range]
Freestanding Golf Cage & Net [Home Driving Range]
Create A Golfing Arena In Your Garden With This Golf Cage
Golf Practice At Home
Completely freestanding, this 10ft x 10ft x 10ft Golf Cage allows players to practice their golf game in the comfort of their own garden. It can be moved easily too!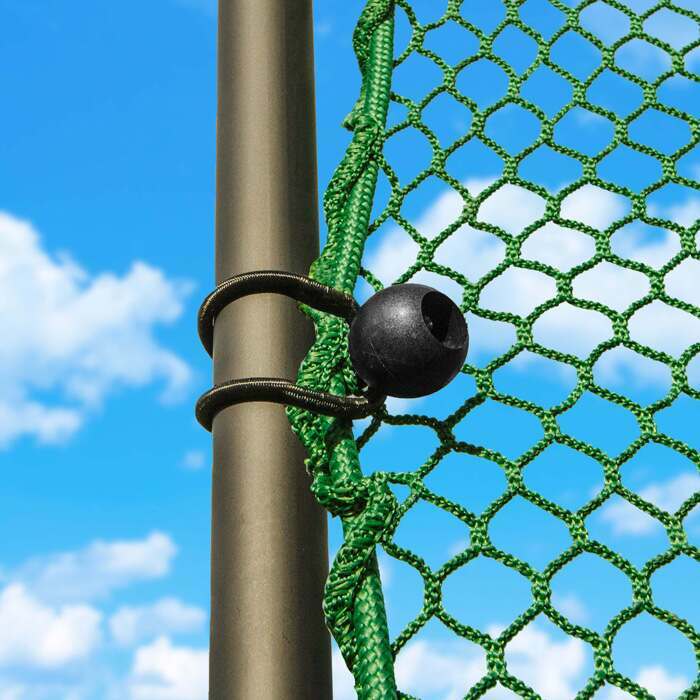 Strong & Robust Frame
Exceptional longevity is a guarantee with this golf cage thanks to its elite construction. The frame has been engineered from 34mm steel & is powder coated for excellent rust-resistance.
Premium Mesh Netting
The 2.3mm knotless twine netting ensures no golf ball will pass through it no matter how fierce the drive. With a golf cage panel protecting the outer net, the 22mm mesh netting is super durable.
Description
Perfect Your Golf Game With This Portable Freestanding Golf Cage
This high-quality golf cage allows players to practice like a professional in the comfort of their own back garden. Completely freestanding, this golf cage is incredibly portable, allowing you adjust your practice location to help protect your grass. An excellent alterative to having to visit your local golf club or driving range, the impressive construction has been made with ultra-durable materials which are 100% weather-resistant, meaning you can leave it outside all year round!
Professional quality Freestanding Golf Cage for the back garden
10ft x 10ft x 10ft structure provides plenty of room for practice
Frame is made using 34mm steel tubing (powder coated)
Powder coating gives it excellent rust & corrosion resistance
Netting is made using 2.3mm knotless twine with 22mm mesh
UV stabilised net is 100% rot-resistant
Golf Cage is exceptionally durable in all conditions
Bungee cords & cable ties included
Exceptional longevity is a guarantee with this freestanding golf cage thanks to the premium-grade materials used to create it. The frame has been engineered using ultra heavy-duty 34mm steel tubing which has been powder-coated for even greater strength and durability. Completely resistant to rust and corrosion, the frame ensures that even the harshest of weather won't get in the way of valuable driving range practice!
Matching the frame every step of the way is the world-class net used to complete this impressive golf cage. Made up of two parts (an outer net and an impact panel), the premium netting is manufactured using 2.3mm knotless twine netting which features a 22mm mesh to easily cope with fiercely struck golf balls. For further strength, the 100% rot-proof netting has been UV stabilised to protect it against sun damage.
PLEASE NOTE - This freestanding golf cage and net can also be used for other sports, such as baseball.
COMPLETE THE PACKAGE: Why not complete the ultimate garden golf set-up by adding one of our professional golf hitting mats to your freestanding cage? An excellent way of protecting your grass whilst creating the perfect golf shot-hitting conditions. For more information, please see the essentials above.
Specifications
Freestanding Golf Cage & Net Specifications
Dimensions:
Single Bay Golf Cage: 10ft x 10ft x 10ft | 3.1m x 3.1m x 3.1m
Weight: 50kgs | 110lbs (Approx.)
Materials:
Frame: 34mm Steel Tubing
Powder-coated steel frame is 100% weatherproof & resistant to rust & corrosion
Outer Net: Ultra durable 2.3mm knotless twine with 22mm mesh
Impact Panel (10ft x 10ft): 2.3mm knotless twine with 22m mesh
All netting is UV stabilised, rot-proof & 100% weatherproof
Miscellaneous:
Golf Cage is completely freestanding & ideal for the back garden
Colour: Black Steel Frame with Green Netting
To add a FORB Golf Hitting Mat to your Golf Cage, please see the essentials above
Don't just take our word for it
After many hours of researching into what would suit me best, I decided to go with this option and I am very confident I made the right decision. I purchased the 42mm thick steel as I live in a particularly windy area and it has held up fine. Myself and my partner play golf so this cage is in regular use and to this day, we have had 0 problems! It is very sturdy and does exactly what I'd hoped it to do. I also called a sales advisor for some guidance on maintenance and assembly, he was very helpful and chatty. 5* from me!
Want to chat?
We're here on

live chat

right now!
Or via phone or email if you'd prefer...
Questions & answers
Ask fellow customers what they think!
Hide Q&As
Questions & Answers
3 questions | 3 answers
Hi How easy and quick is it to erect the whole net? Ideally I'd like to put it up and then tidy it away after each session. Thanks
Hi John.

Thank you for getting in touch.

The cage can take a little time to initially set up, the poles will need to be screwed together with the netting added finally.

After multiple attempts you will soon speed up the assembly process. I would state that the product comes flat packed which is great to store but may take some time to assemble and be removed.

If you have any queries please do get back to me.

Many thanks

Ryan
Is the golf cage free standing or does it require anchoring to the ground
Hello Ray, Thank you for your question. This cage is completely freestanding and does not require to be anchored to the ground. Due to the weight of the cage and the thickness of the steel it is able to be left out all year round with no additional support. If you have any further questions please email sales@
networldsports.com
Many thanks, Tom
Hi, I'm looking for a golf net/cage. Ideally I'm looking for something around 2-2.5m metres wide that retains a solid frame. Is there anything you could point me towards? Regards Nick
Hi Nick, thanks for your question. Our golf cages measure 10ft x 10ft x 10ft so would this work for you at all? The frames are then very sturdy and can be left up in the garden all year round. If you need any more help then please email us at sales@
networldsport.com
and I'll be happy to help. Many thanks, Dan.
You may also like
Professional Golf Driving Wall – 10ft x 9ft
£149.99
FORB Practice Golf Chipping Net
£8.99
FORB Portable Garden Golf Net - 7ft x 7ft
£89.99
Socketed Professional Golf Cage and Net
£413.99