Harrier Giant Dominoes Set
Harrier Giant Dominoes Set

Harrier Giant Dominoes – The Ultimate Outdoor Garden Game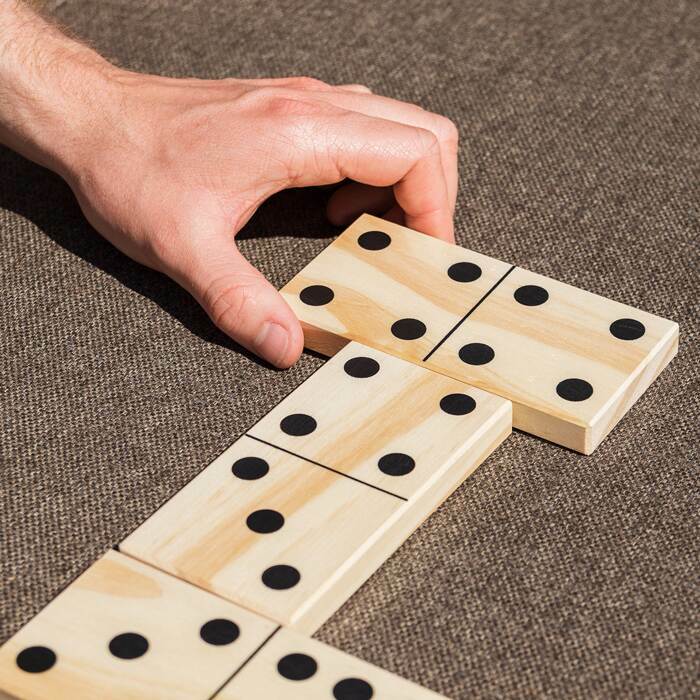 ELITE WOODEN DESIGN
Hand carved using premium pine wood, these Giant Dominoes guarantee supreme longevity. The black markings are protected against rubbing off, allowing them to cope with regular use.
FOR ALL THE FAMILY
An excellent choice for the back garden in the summer, the Giant Dominoes can be enjoyed by the whole family. The dominoes pieces are easy to read & feature rounded edges for safety.
TAKE THEM ANYWHERE
Ideal for home use, schools & trips to the beach, the Harrier Dominoes can be stored & transported with ease using the included carry bag. Touch fastening seal for increased security.
Description
Giant Domino Pieces for Revitalised Traditional Games
Ideal for players of all ages, these high-quality large wooden dominoes have been produced to be evenly weighted and robust and make an excellent twist on the traditional game. Due to their pine wood composition, each domino within this set will stay perfectly in place during use to allow players to effectively conduct fun filled games. As these versatile wooden giant dominoes can be used for a wide range of activities, they can be utilised by schools, leisure centres and families.
28 wooden dominoes that each feature assorted black spots.
Dimensions: 13cm (5 inch) long x 6.5cm (2.5 inch) wide x 1.5cm (0.5 inch) high.
Manufactured from premium grade pine wood.
Supplied with luxury Net World Sports carry bag.
Each domino features rounded edges for improved safety.
Designed and finished in Great Britain.
Each high-quality set contains 28 smooth wooden domino pieces and a useful carry bag for complete portability. To guarantee that you can easily move this large domino set to any location with ease, the convenient added bag will provide you with a spacious storage and transportation solution. Whether you're looking to modernise or revitalise classic and traditional games, this set of extra-large 13cm long (5 inch) x 6.5cm (2.5 inch) wide x 1.5cm (0.5 inch) high dominoes will allow you to add a new dimension to your games.
Equipped with rounded edges to ensure that all players are properly and successfully cared for during games, these wooden game pieces will supply protection against minor injuries during this tactical and thrilling activity.
Specifications
Harrier Giant Dominoes Specifications
Measurements:
Dimensions: 130mm (13cm) long x 65mm (6.5cm) wide x 15mm (1.5cm) high
Materials:
Manufactured from premium pine wood.
Miscellaneous:
Supplied with a luxury and heavy-duty canvas carry bag.
Designed and finished in Great Britain.
Includes rounded edges to provide additional safety.
Net World Sports branded.
Don't just take our word for it
Large size is perfect for all the family from young to old. Kids like counting all the dots and matching them together, not to mention stack them up and make towers, houses etc. Packaged well and the carry bag is really helpful to tidy them away.
Want to chat?
We're here on

live chat

right now!
Or via phone or email if you'd prefer...
Questions & answers
Ask fellow customers what they think!
Hide Q&As
Questions & Answers
No one has asked a question yet!
You may also like
Vermont ProCourt Mini Badminton Net & Racket Set
£79.99
Harrier Croquet Sets - 4 Player [All Models]
£57.99
Harrier Luxury Giant Tumble Tower Game [5FT]
£49.99
Harrier Giant Connect 4 Set
£59.99
Harrier Giant Dice Set
£14.99