FORZA Lacrosse Goal Target Sheet
FORZA Lacrosse Goal Target Sheet
Polyethylene And Polypropylene Blend Lacrosse Target Sheet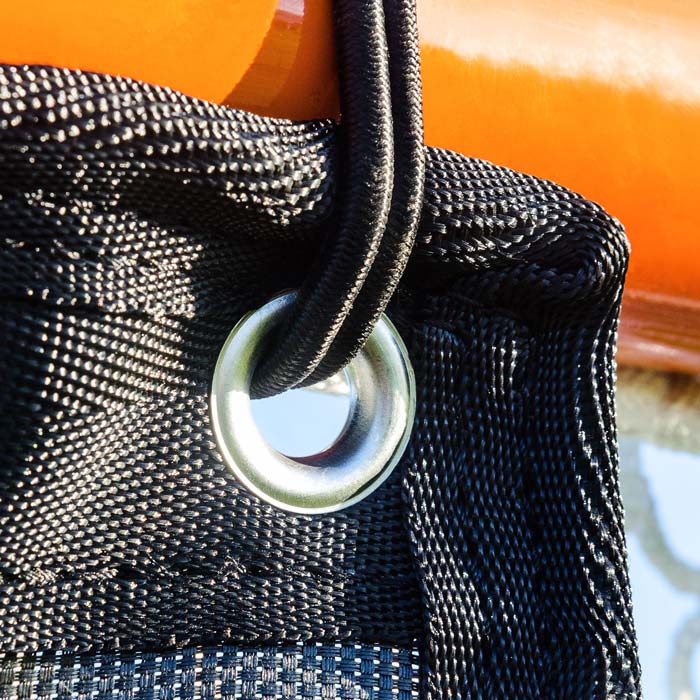 Fast Attachment
Elastic bungee ties allow you to quickly attach and detach the target sheet from your lacrosse goal, whilst eliminating the chances of accidental separation.
Pick Your Spot
With eight target spots to pick from, all varying in size you will quickly be able to beat the goal tender from every angle imaginable.
The Perfect Blend
The canopy of this target sheet is manufactured from a mix of polyethylene and polypropylene, preventing damage from incoming lacrosse balls.
Description
6FT X 6FT Heavy Duty Lacrosse Goal Target Sheet With Reinforced Hems
Perfect your shooting technique in any location with the FORZA Lacrosse Goal Target Sheet. This robust 6ft (1.83m) x 6ft (1.83m) training aid has been manufactured from an ultra-durable blend of polyethylene and polypropylene to effectively stop all flying lacrosse ball in their tracks. Designed with eight varied target sections to provide you with diversified accuracy training, the FORZA Lacrosse target sheet will assist in developing your overall game day performance.
Fits all 6ft (1.8m) x 6ft (1.8m) standard sized lacrosse goals.
Manufactured from a blend of polyethylene and polypropylene finished with a protective top coat.
Target sheet's seams are reinforced.
Attaches to lacrosse goals with elastic bungee ties.
Eight various sized target spots.
Constructed from premium quality polyethylene and polypropylene, the reinforced canopy of this target sheet has been produced to rebound every lacrosse ball. Each durable target sheet has been finished with a protective top coat that effortlessly absorbs all high impact shots. Combined with elastic bungee cord ties and strengthened hems, the entire structure of the FORZA target sheet has been designed to firmly attach to your lacrosse goal. Despite the strong attachment created by the elastic bungee ties, these sheets are incredibly easy to detach. This useful feature will allow you to transport your training session to any location with ease, which in turn will leave you with more time to develop and advance your shooting skills.
Ideal for all regulation sized lacrosse goals, this sheet is 6ft (1.83m) x 6ft (1.83m) and is equipped with eight differently sized target spots. These targets have been positioned in the hard to reach areas that keepers are known to struggle to defend. With this versatile target sheet, you'll become accustomed to these vital gaps and further increase the chances of scoring on those momentous match days.
Net World Sports stocks an extensive range of high-quality lacrosse equipment to get you ready for the new season, such as the Lacrosse Rebounder Net, Professional Lacrosse Goal 6ft x 6ft and the FORZA Astro Slalom Poles With Bases [5ft or 6ft High].
Specifications
Lacrosse Goal Target Sheets Dimensions
6ft (1.83m) x 6ft (1.83m)
Material
Target sheet: A blend of polyethylene and polypropylene finished with a top coat
Ties: Elastic bungee cord
Miscellaneous
Sheet has 8 different sized target holes
Elastic bungee ties attach the sheet to the goal
Suitable for regulation lacrosse goals
Want to chat?
Contact us here and we'll get back to you as soon as possible.
Buy today, play tomorrow
Order by 9pm for next day delivery
Questions & answers
Ask fellow customers what they think!
Hide Q&As
Questions & Answers
No one has asked a question yet! Be the first to ask one.
FORZA Lacrosse Goal Target Sheet
Thank you!
Your answer has been submitted.
We really appreciate you taking the time to help other customers, so please check your emails for a little thank you from us.
FORZA Lacrosse Goal Target Sheet
What would you like to know?
Thank you!
Your question has been submitted. You'll receive an email when an answer has been received.
Can't hang around? Contact us and we'll get back to you right away.
You may also like
FORZA Lacrosse Rebounder Net
£199.99
Stop That Ball™ [Lacrosse Edition] – Ball Stop Net & Post System
£99.99
FORZA Professional FIL Lacrosse Goal (6 X 6)
£349.99
Stop That Ball™ - Socketed Ball Stop Net & Post System
£119.99
10 Water Bottles (750ml) & Foldable Bottle Carrier
£13.99