FORZA Lacrosse Goal Target Sheet
FORZA Lacrosse Goal Target Sheet

Lacrosse Shooting Trainer With 9 Different Sized Targets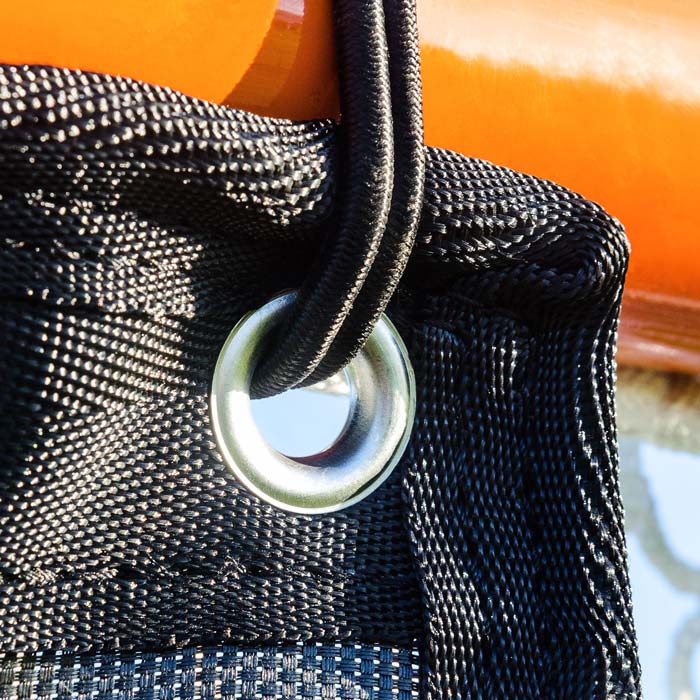 User-Friendly Shooting Aid
Elastic bungee ties allow you to quickly attach and detach the target sheet from your lacrosse goal, whilst eliminating the chances of accidental separation.
Shooting Practice Equipment
With nine target spots to pick from, all varying in size you will quickly be able to beat the goal tender from every angle imaginable.
Durable Lacrosse Target Sheet
The canopy of this target sheet is manufactured from a mix of polyethylene and polypropylene, preventing damage from incoming lacrosse balls.
Description
Heavy-Duty Lacrosse Goal Target Sheet With Reinforced Hems And Bungee Goal Ties
Practice your shooting skills in any location with this FORZA Lacrosse Goal Target Sheet. This strong 6ft x 6ft piece of training equipment has been crafted from an ultra-durable blend of polypropylene and polyethylene to stop all lacrosse balls quickly and effectively. Designed with nine total target holes, the FORZA lacrosse shooting trainer will assist in developing your overall finishing prowess.
Fits all 6ft x 6ft (1.8m x 1.8m) standard sized lacrosse goals.
Manufactured from a blend of polyethylene and polypropylene finished with a protective top coat.
Target sheet's seams are reinforced.
Attaches to lacrosse goals with elastic bungee ties.
Nine various sized target spots.
Manufactured from a high-quality blend of polyethylene and polypropylene, this reinforced target sheet has been specially designed to rebound every lacrosse ball that doesn't. The durable target sheet has been further finished with a protective top coat that helps effectively absorb the impact of high velocity shots. These robust and hard-wearing materials are supported by heavy-duty elastic bungee cord ties and strengthened hems that firmly secure the lacrosse target sheet to the goal frame. This easy attachment system allows the lacrosse shooting trainer to be set up and taken down with ease and will allow you to transport your practice session to any location quickly.
Suitable for use in all regulation sized lacrosse goal posts, this FORZA lacrosse target practice sheet measures 6ft x 6ft (1.8m x 1.8m) and is equipped with nine varied target spots. These target holes have been positioned in the areas that are most likely to result in goals. With this portable and versatile target sheet, you will become accustomed to aiming for these vital areas and therefore improve your shooting success rate.
Net World Sports stocks an extensive range of high-quality lacrosse equipment to get you ready for the new season, such as the Lacrosse Rebounder Net, Professional Lacrosse Goal 6ft x 6ft and the FORZA Astro Slalom Poles With Bases [5ft or 6ft High].
Specifications
Lacrosse Goal Target Sheets Dimensions
6ft x 6ft (1.83m x 1.83m)
Material
Target sheet: A blend of polyethylene and polypropylene finished with a top coat
Ties: Elastic bungee cord
Miscellaneous
Sheet has 9 different sized target holes
Elastic bungee ties attach the sheet to the goal
Suitable for regulation lacrosse goals
Don't just take our word for it
The FORZA Lacrosse Goal Target sheet is an excellent training tool for lacrosse players. The targets are durable and easily attach to the goal, providing players with a visual aid to improve their accuracy. Highly recommend!
Want to chat?
Contact us here and we'll get back to you as soon as possible.
Buy today, play tomorrow
Express delivery available
Questions & answers
Ask fellow customers what they think!
Hide Q&As
Questions & Answers
No one has asked a question yet!
You may also like
FORZA Lacrosse Rebounder Net
£199.99
STOP THAT BALL™ [Lacrosse Edition] – Ball Stop Net & Post System
£114.99
FORZA Professional FIL Lacrosse Goal [6 x 6]
£449.99
Socketed STOP THAT BALL™ - Ball Stop Net & Posts [12ft High]
£139.99
10 Water Bottles (750ml) & Foldable Bottle Carrier
£18.99