METIS Dumbbell Rack Sets [3 Tier]
METIS Dumbbell Rack Sets [3 Tier]
FREESTANDING DUMBBELL WEIGHT RACK FOR GYMS & HOME SET-UPS
400KG CAPACITY
Thanks to its 3-tier design, the free weights stand rack has a maximum load capacity of 400kg (882lbs), so you can store a full range of weights for workouts.
PREMIUM STEEL RACK
Manufactured from premium-grade steel with a black powder coating for enhanced strength and durability. Ideal for commercial & home gym set-ups.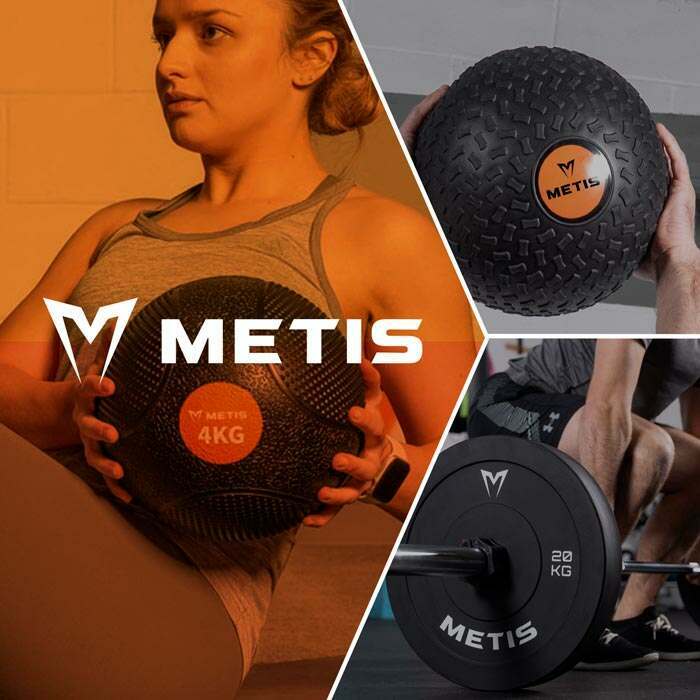 EXPLORE THE METIS RANGE
Set your goals & achieve them with the dynamic METIS fitness range. A range that covers all types of fitness & exercise, METIS is a brand that delivers professional quality for everyone.
Description
METIS Hex Dumbbell Rack Sets – Pro Dumbbell Stand With 400kg Max Capacity
An excellent choice for gyms & home set-ups, these METIS Dumbbell Racks allow you to store & organise free weights with ease. The 3-tier design can stow a full range of dumbbell weight sets, with the solid structure able to hold a maximum load of up to 400kg. Engineered using heavy-duty steel for supreme strength & durability, the frame features a black powder coating for increased longevity & protection against damage from dumbbells. The dumbbell holder is completely freestanding to allow you full flexibilty of where you can fit it into your gym set-up. Quick & easy to assemble, the weight rack is designed to face the user, making it much easier to pick up/drop off dumbbells. The dumbbell rack is available individually or as a complete set with 12x hex dumbbells (2.5kg to 30kg).
METIS Dumbbell Rack Sets – 3-tier weights rack for gyms, home set-ups & garages
Premium-grade steel construction features a black powder coating for increased strength
Dumbbell stand suitable for loads up to 400kg – will support a range of free weights
Each shelf is designed to face the user, making it easier to lift off/drop off dumbbells
Dumbbell storage rack is quick & easy to assemble – clear & simple instructions included
Available Options: Dumbbell Rack with 12x Dumbbells (Pairs) or Dumbbell Rack Only
FOR MAXIMUM STRENGTH & STABILITY, we recommend positioning your METIS Dumbbell Rack next to a wall.
Specifications
METIS Dumbbell Rack Sets Specifications
Available Options:
Complete Set: Dumbbell Set with Rack & 12x Hex Dumbbells (Pairs) - 2.5kg, 5kg, 7.5kg, 10kg, 12.5kg, 15kg, 17.5kg, 20kg, 22.5kg, 25kg, 27.5kg, 30kg
Dumbbell Rack Only
Dimensions:
Fully Assembled: 80cm H x 160cm W x 50cm D | 32in H x 63in W x 20in
Tray: 150cm x 30cm | 59in x 12in
Tray is suitable for dumbbells with a minimum handle length of 11cm (4in)
Max Load Capacity: 400kg | 882lbs
Materials:
Dumbbell Rack: Premium-grade steel with black powder-coating for increased strength
Hex Dumbbells: Contoured chrome with rubber ends for supreme durability
Miscellaneous:
Rack is freestanding – ideal for gyms & home set-ups
Shelves designed to face user for easy access to dumbbell weights
It's recommended placing rack near a wall for increased stability/support
Complete set includes ergonomically designed dumbbells for supreme user comfort & excellent grip
Don't just take our word for it
Good quality. Good service. Just what I needed. Impressed with METIS as a brand, had a few bits now & all have improved the quality of my gym.
Perfect for the gym these were. Bought the rack & sets & my members have loved the upgrade to the previous ones. Delivered faster than expected too.
Want to chat?
We're here on

live chat

right now!
Or via phone or email if you'd prefer...
Questions & answers
Ask fellow customers what they think!
Hide Q&As
Questions & Answers
No one has asked a question yet!