METIS Fabric Resistance Bands
METIS Fabric Resistance Bands

Set Of 3 Fabric Resistance Bands – Perfect For Home & Gym Workouts
3x Resistances
Each set includes 3x resistance bands with varying strengths: Green = Light Resistance (8-12kg), Pink = Medium Resistance (12-16kg) & Purple = Heavy Resistance (16-20kg). Perfect for home/gym workouts.
Premium Material
These bands are made using a soft polyester & cotton blend reinforced with natural rubber to maintain stretch. Guaranteed long-lasting performance, these bands are lightweight for simple portability.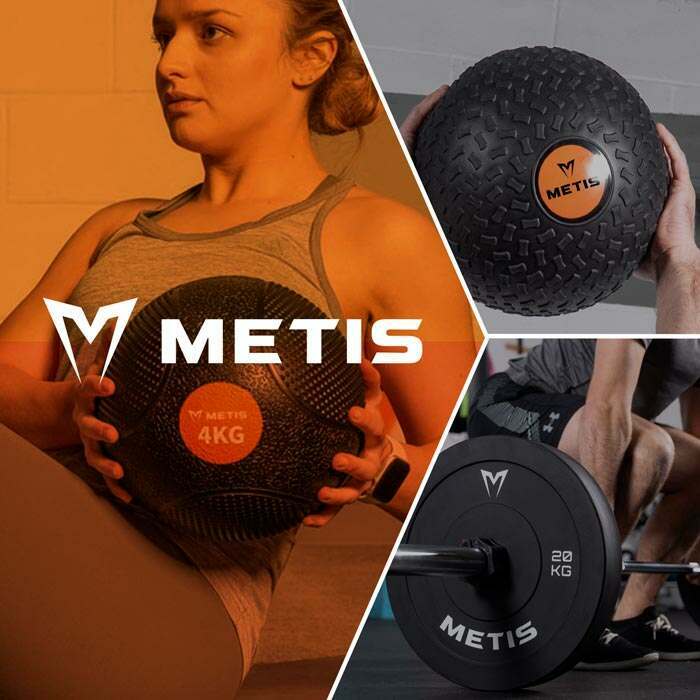 EXPLORE THE METIS RANGE
Set your goals & achieve them with the dynamic METIS fitness range. A range that covers all types of fitness & exercise, METIS is a brand that delivers professional quality for everyone.
Description
METIS Fabric Booty Bands – Increase The Intensity Of Your Workouts
Target, isolate & intensify your workouts using these high-quality booty resistance bands. These are a great gym accessory to increase tension on your muscles while performing various upper & lower body exercises. The soft polyester cotton material is reinforced with natural rubber to improve stretch & for user comfort. Complete with a lightweight design, these short resistance bands are easily transported to & from the gym. The METIS Fabric Resistance Bands are available in a pack of 3 & offer different strengths: Light, Medium & Heavy. Different strengths have a different level of stretch meaning you will feel more tension & resistance. Featuring a non-slip inner grips which ensures the bands will not roll up, fall, or require adjustment throughout exercises. Ideal to use while performing glute bridges, donkey kicks, goblet squats & more.
METIS Fabric Resistance Bands – Excellent accessory to intensify gym & home workouts
A perfect option to isolate areas of the body including your inner legs, glutes & more
Non-slip cotton & rubber blend can cope with long-term use without losing stretch
Lightweight design ensures the bands can easily be transported to & from the gym
Booty band set includes a light, medium & heavy resistance band to target the full body
PLEASE NOTE: Always seek professional advice on technique & resistance levels before using our resistance bands.
Specifications
METIS Fabric Resistance Bands Specifications
What You Get:
1x Green Band – Light resistance (8 - 12kg | 17.5 - 26.5lbs)
1x Pink Band – Medium resistance (12 - 16kg | 26.5 - 35lbs)
1x Purple Band – Heavy resistance (16 - 20kg | 35 - 44lbs)
Please Note – Resistance levels in kilograms are only a rough estimation as actual resistance will vary based on factors such as temperature, usage of product, & direction of force.
Dimensions:
Green: 33cm L x 8cm W | 13in L x 3in W
Pink: 33cm L x 8cm W | 13in L x 3in W
Purple: 43cm L x 8cm W | 17in L x 3in W
Materials:
Made using polyester cotton material reinforced with natural rubber
Miscellaneous:
Lightweight & ultra-portable design
Bold colours featuring a premium logo
Perfect addition for gym & home workouts
Aids flexibility & can help prevent injuries
Don't just take our word for it
I am a keen gym go-er and these have helped me with my home workouts so much – I can do light AND intense workouts thanks to there being 3 different resistance bands. Definitely taking these to the gym with me when they re-open.
great product that is affordable + reliable. Professional looking + comes in 3 colours. Can use in multiple workouts so you can work your whole body.
Since lockdown I've been working out at home quite a lot and I'm always looking to add new equipment for my routines – and these are perfect. They come in 3 different resistance levels, so you really can feel your muscles burn when you push yourself!
Want to chat?
We're here on

live chat

right now!
Or via phone or email if you'd prefer...
Questions & answers
Ask fellow customers what they think!
Hide Q&As
Questions & Answers
No one has asked a question yet!