Vermont Badminton / Volleyball Combi Posts [Freestanding]
Vermont Badminton / Volleyball Combi Posts [Freestanding]
THE ALL IN ONE CHOICE VOLLEYBALL AND BADMINTON POSTS
FREESTANDING & SELF-WEIGHTED
The expertly designed self-weighted posts ensure that both posts remain upright to secure the nets in position during both games .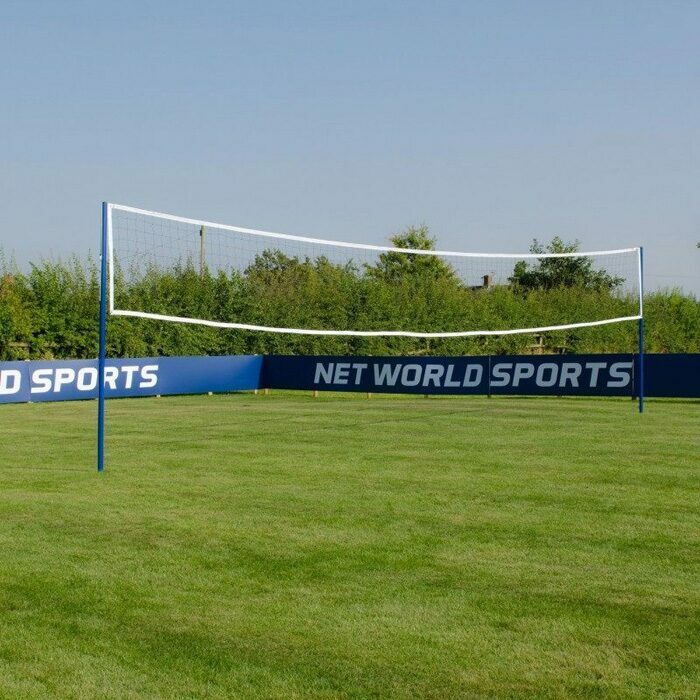 DURABLE & LONG-LASTING POLES
The poles are designed to withstand impact from the hardest strikes over and over. The all-weather 50mm steel will allow extensive use all year round.
MANOEUVRABLE WHEELS
Each freestanding post has a set of wheels to ensure maximum portability & movement. Manoeuvre the posts indoors and outdoors with minimum effort.
Description
FREESTANDING BADMINTON AND VOLLEYBALL NET POSTS
The expert design of these net posts allows you to play two sports without having to change equipment. Switch from badminton to volleyball seamlessly. The multi-sport badminton and volleyball posts are ideal for schools, youth clubs and leisure centres. The freestanding posts come equipped with a set of wheels for absolute portability. The posts have a strong and stable base to ensure they maintain their upright position over extended periods of time.
Self-weighted base for structural stability on any flat surface
Manufactured from 50mm steel with Powder coated finish for increased durability
Available to purchase with or without nets
Suitable for indoor and outdoor use – All year round
Ideal for schools, youth clubs and leisure centres
Specifications
Dimensions
Weight
Total Weight: 46kg | 101lb
Posts (individual): 3.6kg / 8lbs
Post Bases (individual): 21kg / 46lbs
Height
8ft Volleyball / 5ft Badminton
Volleyball Net:
Net Size - 32ft x 3ft (9.75m x 0.9m)
Mesh Square Size - 4in (10cm)
Weight - 2kg
Overlock Border.
Badminton Net:
Net Size - 20ft x 2.5ft (6m x 0.75m)
Mesh Square Size - 19mm
Weight - 850g
Overlock - Stitched Twine Edge
Material
Miscellaneous
Conforms to BSEN: 1509
Colour – Blue (Powder Coated)
Don't just take our word for it
Easy to set up, and seems a good quality product. Very pleased.
Want to chat?
We're here on

live chat

right now!
Or via phone or email if you'd prefer...
Buy today, play tomorrow
Express delivery available
Questions & answers
Ask fellow customers what they think!
Hide Q&As
Questions & Answers
2 questions | 2 answers
Does this netsystem come with two post and nets?
Hi Yuejin, Thank you for question. There is the option on the drop down menu to have the posts only or with the inclusion of a net. Two posts would be included and if selected a 20ft badminton net as well. If you do have any further questions please do contact us via sales@
networldsports.com
Many thanks, Tom
1. Are they 44kg each or in total? 2. What is the difference between this and the one that says badminton only? apart from the price of course!
Hi Mandy,
Thank you for contacting us, The 44kg is the total weight of the set. so it would be around 22kg for one upright and weighted base.
The poles you receive would be different, with the combination set it allows you to play both badminton and Volleyball. Whereas with the badminton only, you cant change the height of the netting to make it suitable to volleyball.
If you would like any pricing on this please contact sales@
networldsports.com
who will be happy to assist you.
Kind regards,
Alex
You may also like
Vermont ProCourt Mini Tennis Set [4 Nets] – Schools Edition
£699.99
Vermont Badminton / Volleyball Combi Posts [Socketed]
£149.99
Vermont ProCourt Mini Tennis & Badminton Net & Racket Set
£109.99
Vermont ProCourt Mini Badminton Net & Racket Set
£79.99
Vermont ProCourt Mini Tennis Net & Racket Set
£79.99