RapidFire RF Rebounders [3 Sizes]
RapidFire RF Rebounders [3 Sizes]

RapidFire RF Rebounder – Dynamic Training Tool For Key Skill Areas
ADJUSTABLE ANGLE
This impressive rebound nest feature a fully adjustable angle which allows players to alter the flight & trajectory of the ball being returned. Ideal for catching, ball control & reaction speed training drills.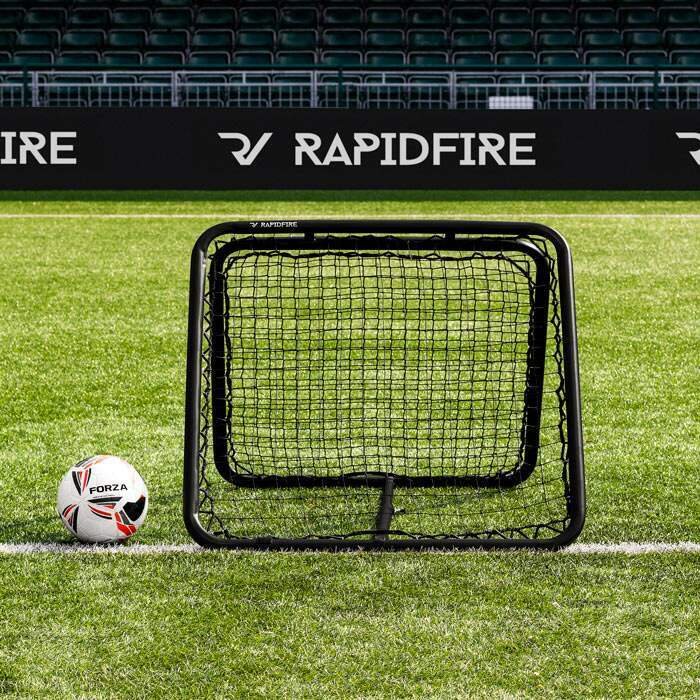 DUAL-ANGLE APPROACH
The RapidFire Rebounders feature a double-sided design to allow for simultaneous training. The dual-angle approach allows sports teams to test their techniques whilst improving their understanding.
A RANGE OF SPORTS
The dynamic range of RapidFire Rebound Nets is ideal for training multiple key sporting skill areas across a whole range of sports including football, cricket, rugby, American Football, GAA Gaelic Football & hurling.
Description
RapidFire RF Rebounders – Test A Variety Of Skills Across A Range Of Sports
Guaranteed to bring a whole new dynamic to your training sessions, the brand-new RapidFire Rebounders are a must-have for a variety of different ball-based sports. Innovatively designed so that all ages & abilities can enjoy, these premium rebound nets feature a double-sided approach, with either side offering slightly different rebound characteristic to the other. An excellent choice of training tool when working on ball control, catching, ball contesting, reaction speeds & more, the RapidFire Rebounders are available in three different sizes; 80, 100 & 150, with all three featuring a fully adjustable angle. For simple storage & portability, the RapidFire Rebounders fold completely flat.
RapidFire Rebounders [RF80, RF100 & RF150] – Ball Control, Catching & Reactions Training Drills
Rebounders feature a 1.5mm steel with black powder-coating (weatherproof)
Side 1 features a 1.5mm knotted HDPP rebound net (48mm mesh)
Side 2 consists of a 2mm knotless HDPE net with a 30mm mesh
Quick release pins allow user to transform rebounder into a handheld option
For simple storage & portability, rebounder can be folded completely flat
Ideal training tool for Football, Cricket, Hockey, GAA Gaelic Football, Hurling, Rugby & more
Exclusively manufactured using premium-grade materials, all three RapidFire Rebounders guarantee to be a part of your training set-up for many seasons to come. The frame, which features a 1.5mm thick powder-coated steel construction, is weatherproof & resistant to rust & corrosion. Side 1 features a 1.5mm knotted HDPP net with a 48mm mesh whilst side 2 consists of a 2mm HDPE rebound net which has a 30mm knotless mesh for a more predictable ball return. All three rebounders come with quick release pins which allow you to transform the double-side into a single-sided handheld option. All three rebounders feature a detachable angle adjuster, which allows to alter the ball trajectory to suit specific training drills.
Specifications
RapidFire RF Rebounder Specifications
RapidFire RF 80 Rebounder:
Overall Rebounder Size: 2.5ft x 2.5ft | 75cm x 75cm
Side 1 (Target Area): 2ft x 2ft | 63cm x 63cm
Side 2 (Target Area): 1.9ft x 1.9ft | 58cm x 58cm
RapidFire RF 100 Rebounder:
Overall Rebounder Size: 3ft x 3ft | 94cm x 94cm
Side 1 (Target Area): 2.8ft x 2.8ft | 85cm x 85cm
Side 2 (Target Area): 2.5ft x 2.5ft | 78cm x 78cm
RapidFire RF 150 Rebounder:
Overall Rebounder Size: 4.5ft x 3ft | 138cm x 94cm
Side 1 (Target Area): 4.2ft x 3ft | 129cm x 86cm
Side 2 (Target Area): 4ft x 2.5ft | 121cm x 78cm
RF150 can be used vertically or horizontally
Materials:
Rebounder Frame: Premium 1.5mm Powder Coated Steel
Rebound Net (Side 1): 1.5m HDPP (48mm knotted mesh)
Rebound Net (Side 2): 2mm HDPE (30mm knotless mesh)
Miscellaneous:
Rebounders feature a fully adjustable angle
Rebound Net features quick release pins for simple assembly
Quick release pins also allow users to convert to a handheld rebounder
Light-in-weight, ultra-durable & super easy to transport
Rebounder folds completely flat for simple storage
RapidFire RF Rebounders are ideal for football, cricket, hockey, rugby, American Football, GAA Gaelic Football, Hurling & more.
Don't just take our word for it
These rebounders are so versatile and can be used for so many different drills. A must have these days for coaches and having used a few different brands I'd say Rapidfire are the best
We have the RF100 which we use in training sessions for shooting practice and it's great fun. The players always look forward to using it and it's always entertaining for coaches too!
Want to chat?
We're here on

live chat

right now!
Or via phone or email if you'd prefer...
Buy today, play tomorrow
Express delivery available
Questions & answers
Ask fellow customers what they think!
Hide Q&As
Questions & Answers
No one has asked a question yet!