Come Rain Or Shine – This Portable Team Shelter Has Got You Covered
100% Weatherproof Protection
This portable football shelter protects from the heavy rain and glaring sunlight that Sunday mornings and summer tournaments can often bring.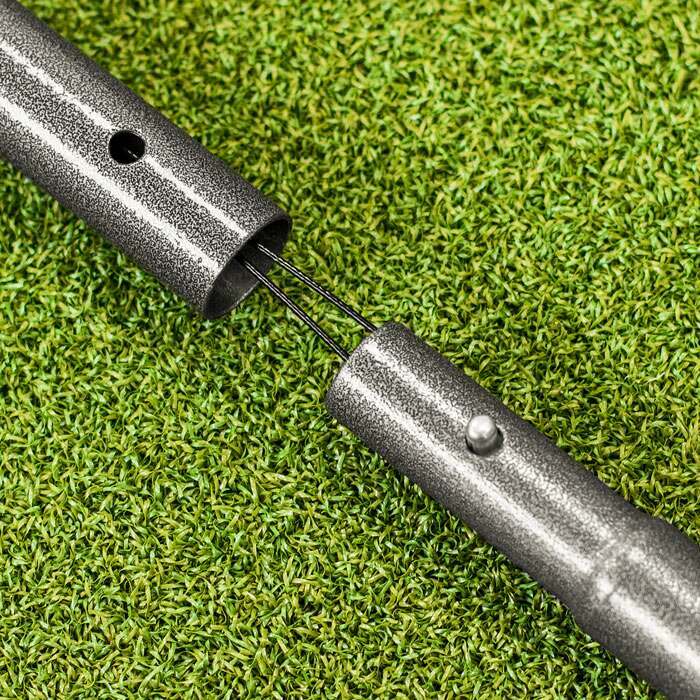 Quick & Easy Assembly
With the steel frame connected by bungee cords and steel U-pegs included, you can assemble in no time at all and focus on preparing your team.
Optional 8-Seat Bench
Add the optional 8-seat bench to your portable team shelter to give your players the rest they need before playing their role as super subs!
Description
Portable Team Shelter For Cover From Heavy Rain & Intense Sunlight
This high quality portable dugout is designed to deliver maximum practicality in keeping your team covered from the elements on a match day. Its lightweight yet sturdy construction means it can be easily transported and assembled to provide reliable protection from rain and intense sunlight in minutes.
Assemble in next to no time with easy to use touch fastening straps to cover up to 8 people
100% waterproof & wind proof to keep your team warm and dry in heavy rain
Provides shade from UV rays during summer fixtures and tournaments whilst still allowing daylight in
Cover features a 50+ UPF design for maximum protection and durability
Sturdy steel frame is robust and powder coated for exceptional corrosion prevention
No tools required for a quick & simple set up
Option to include a high quality portable 8-seat team bench
Shelter comes with a heavy-duty carry bag for easy portability
The highly durable materials used on this sports team shelter are strong enough to withstand heavy wind and rain, with the coated covering also providing UV protection for taking shade from the glaring sun. For added durability, the cover is 50+ UPF which offers maximum sun protection. However, unlike others, this team shelter is designed to allow enough daylight in so you can still see your coaching notes whilst inside. This makes it the perfect portable football shelter but can also be used for rugby, cricket, lacrosse, Gaelic football, baseball and more!
The sturdy steel frame is connected by handy elastic cables, so you can simply slot together in seconds before attaching the cover using touch fastening straps. Once the game or tournament is over, this portable team shelter is even easier to take down ready for the next fixture.
Whether you require a portable football shelter for hosting matches or tournaments, or require something lightweight and easy to transport to take to away matches, this is the best portable team shelter you'll find! It requires absolutely no tools and can be assembled and dismantled in just minutes, whilst easily fitting into the back of any standard car!
Please Note: This portable team shelter is available for purchase as a single shelter or with an 8-seat team bench. Please select your preferred option in the drop-down above.
Specifications
Size
Height: 6ft (1.8m)
Width: 12ft (3.7m)
Depth: 4.5ft (1.4m)
Capacity: Up to 8 people
Features
Shelter frame is manufactured from 25mm diameter steel
Powder coated grey finish for exceptional corrosion prevention
Shelter cover is manufactured from coated polyester parachute-style material
Features a UPF rating 50+ for maximum sun protection & durability
Touch fastening system for easy attachments
Includes anchor pegs to secure onto grass sports fields and similar soft surfaces
Bench comes with carry bag included
Miscellaneous
Weight: 22kg
Colour: Grey
Option to include 8-seat portable team bench in the drop-down above
Once packed away, portable team bench will fit into any standard car
Don't just take our word for it
Our football team has lots of away games, so this is perfect to take to other grounds with us to make sure we've all got somewhere to sit during the game! Really handy and saves sitting on the grass.
Want to chat?
We're here on

live chat

right now!
Or via phone or email if you'd prefer...
Questions & answers
Ask fellow customers what they think!
Hide Q&As
Questions & Answers
7 questions | 7 answers
How long does this take to put up as i have seen on someones comments it says 20-30 mins? Regards
Hi Steve, thank you very much for the enquiry. Yes, I would say this takes roughly 15-20 minutes to set up from experience. If you have more than one person setting it up, it could probably be done faster than this.
Many thanks,
Grant
How's long does it take to put up and take down?
Hi David, thanks for getting in touch. I would estimate around 20-30 minutes to put up 1 shelter. We would recommend around 2-3 people putting up each shelter for convenience purposes. I hope this information helps. Please let me know if there is anything else I can help you with. Kind regards, Adam
What is the dimensions when packed away?
Hi Emma, thank you very much for getting in touch. The packing dimensions for this products are as follows:-
Length - 105cm
Width - 40cm
Height - 22cm
Weight 22kg.

I hope this helps.
Kind regards,
Grant
Does it come with a bag to transport it ? Picture if possible
Hi K, thank you very much for the enquiry. Yes, this product comes with a bag in order to transport the shelter. Unfortunately, we cannot upload a photo through here however, it is the same as a large goal bag on our site!
Many thanks,
Grant
Hi, Does this come in different colours, so i need one in black can this be done? Many Thanks Mary
Hi Mary, thanks for getting in touch. Unfortunately we do not offer different colours or any customisation on this shelter at this current moment. If you would like any more information on this product or any others, please do not hesitate to contact us again. Many thanks, Adam
Does this shelter come in black ?
Hi Jay,
Thank you for contacting us, this product only comes in the grey colour,that can be seen on the product photo.
If you would like any pricing on this please contact sales@
networldsports.com
who will be happy to help.
Kind regards,
Alex
Please can you confirm the overall size? thankyou
Hi Jim, Thank you for your question. The height of the shelter is 6ft (1.8m), the width of the system is 12ft (3.7m) and the depth of the shelter is 4.5ft (1.4m). If you have any further questions please email sales@
networldsports.com
and I will be happy to help. Many thanks, Tom
You may also like
Football Team Shelter & 8 Seat Bench Package
£287.99
Recently Viewed
Grass Germination Sheet
£57.99
Baseball Batting Tee
£32.99
Vermont 2mm Tennis Net [42ft Doubles - 4.5kg]
£57.99
Speed & Agility Football Training Ladder
£5.99
Tennis Post Ground Sleeve Sockets
£46.99